10th Annual International Women's Day Forum: Marking a Milestone, Continuing the Momentum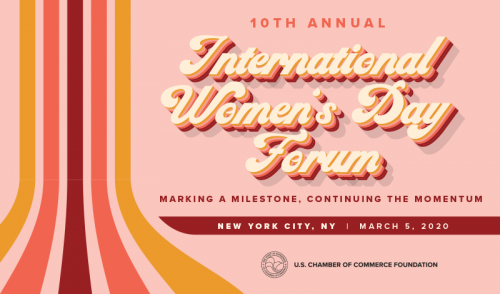 ADDRESS: 117 W 46th St New York, New York 10036 USA
Get Tickets
2020 is an important year for the fulfillment of women's economic empowerment and gender equality. 100 years ago, the 19th Amendment guaranteed women's constitutional right to vote in America. 45 years ago, the United Nations began celebrating International Women's Day on March 8. 25 years ago, 189 national governments negotiated a global agreement, the Beijing Declaration and Platform for Action, to achieve greater opportunity for women.
As we continue to work to create a more gender-inclusive society, what milestones will we mark next? The U.S. Chamber of Commerce Foundation's 10th Annual International Women's Day Forum will showcase the change-makers, doers, leaders, and visionaries who are paving the way for a better future for all.
Join cross-sector leaders and organizations in New York City on March 5 to advance progress, partnerships, and prosperity.