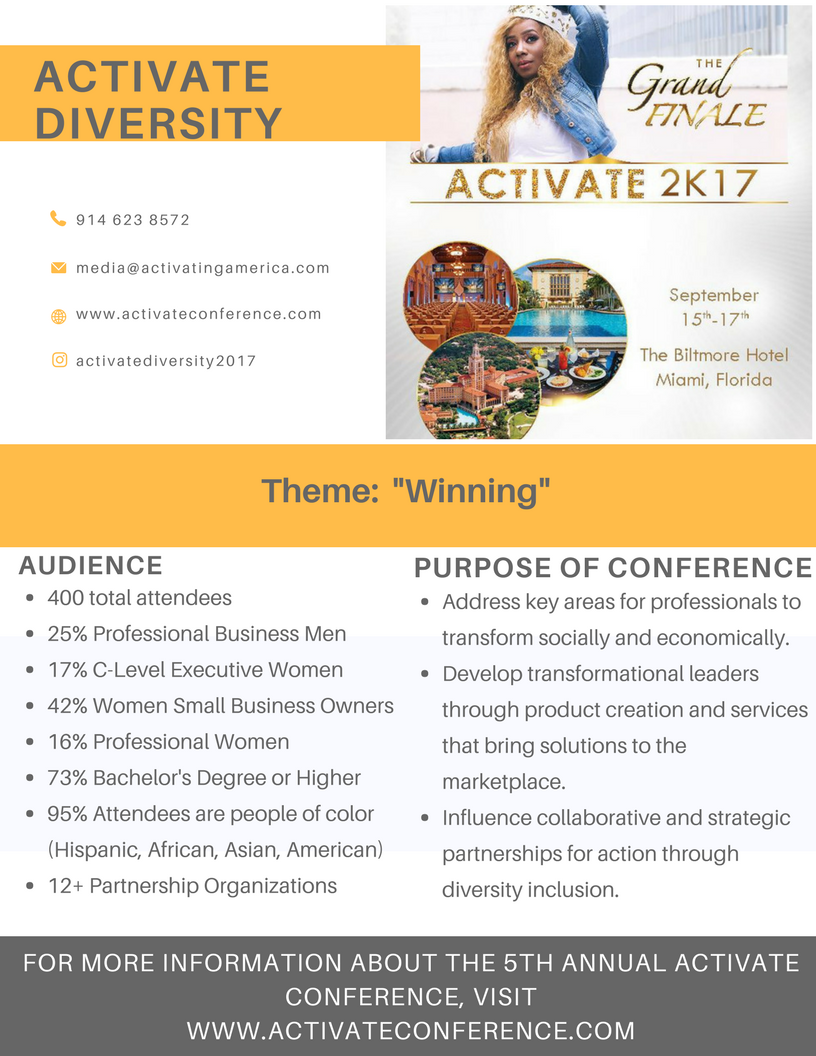 UPDATE - EVENT CANCELLED DUE TO IRMA -- 2017 ACTIVATE CONFERENCE
By
Her Agenda Staff
Sep. 14 2017, Published 8:00 p.m. ET
ADDRESS: 1200 Anastasia Ave, Coral Gables, FL 33134, USA
Activate 2K17 is about connecting to those power brokers that can open doors to opportunity. They know exactly who to contact for financing, support, and resources. Activate 2K17 salutes and celebrates the next generation of women and men leveraging their brilliance to build fortunes, and change their portion of the world.
Lucinda Cross is an accomplished best-selling author with four Amazon best-sellers to her name. As the founder of the Activate Movement, she is a highly sought-after international speaker and coach. This year, Lucinda is front and center on all conference days providing inspiration, motivation, and her "insider" strategies for getting seen, building a brand, and making boss moves to grow your empire. Learn how to take your business and brand to the next level by getting full access to Lucinda and her dream team of speakers and panelists.
Article continues below advertisement
Dia Simms is a corporate executive, entrepreneur, philanthropist, and public speaker, whose professional journey began uniquely with her work at the Department of Defense. With positions in advertising sales and the pharmaceutical industry following, Simms' career path took an unconventional digression when she was solicited to work with music and business mogul Sean Combs. She is regularly featured in the media, and has lent her expertise to such outlets as The Huffington Post, Fortune, Pfizer, Fox News, State Farm and many more.
She joined BET Her, a Viacom-BET Network Company, in July of 2012. BET Her is a 24-hour African American lifestyle network designed for Black Women. She and her team are charged with growing the revenue base for the network. Thornton was instrumental in the rebranding of Centric as 'The First Network Designed for Black Women and then again into BET Her. Thornton recently authored her first book Stratechic: Life and Career Winning Strategies for Women. She wanted to write a book that encouraged women to build a plan that would allow them to tap into the strategies they were born with.
Article continues below advertisement
Activate Workbook​​
Access to all Keynotes and Break Out Sessions​​
Latin Quarter Leadership Session​​
Man Cave POWER Session​​
Millennial BOSS Session​​
Networking (Friday) Meet and Greet​​
Activate Kickoff Cocktail Reception (Friday)
Evening Live Entertainment Show (Saturday)
Activate Workbook
Priority Gold Seating
Access To Private Mastermind Sessions
Access to all Keynotes and Break Out Sessions
Latin Quarter Leadership Session
Man Cave POWER Session
Millennial BOSS Session
Priority Check-In
Activate Kickoff Cocktail Reception (Friday)
Special Keynote with Dr. Michele Thornton,BET. (Friday)
Appearances by special invited guests and performers.
Saturday Morning Masterclass
Saturday Kings and Queens Luncheon
Evening Live Entertainment Show (Saturday)