2017 Corporate Citizenship Conference - Opportunity Forward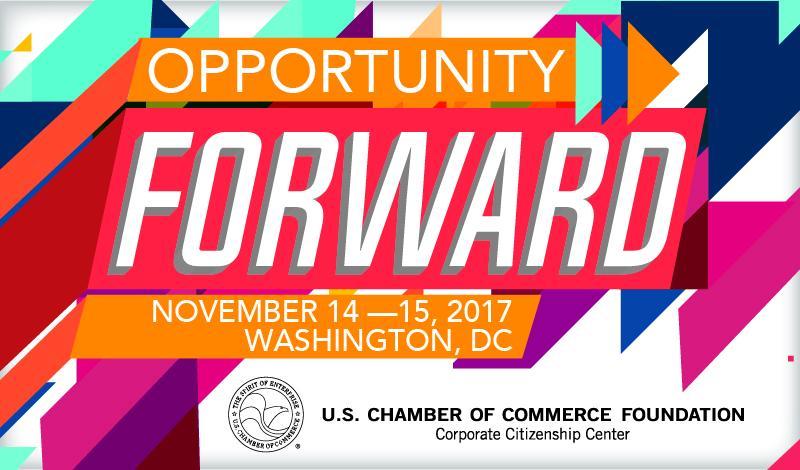 VENUE: Ronald Reagan Building
ADDRESS: Ronald Reagan Bldg and International Trade Center, 1300 Pennsylvania Ave NW, Washington, DC 20004, USA
At the most basic level—businesses are problem solvers. From providing invaluable services to innovating new products, the private sector—by design—find opportunity and drive solutions. So it only makes sense that leading businesses are turning their problem-solving abilities to the greatest social issues of our time. From water scarcity to disaster relief, businesses are taking the problems we face head-on and building innovative cross-sector solutions that drive us forward.
The theme of the 2017 Corporate Citizenship Conference is Opportunity Forward.
The business community is uniquely-suited to see and embrace the opportunities that lie in the most vexing problems we face. Join the U.S. Chamber of Commerce Foundation on November 14—15 to learn how the business community—together with their partners—are taking action and creating solutions today that build greater opportunities and prosperity for all.
The following topics and strategies will be addressed:
Article continues below advertisement
What does it mean to "future-proof" your business?
Seeing the challenges ahead, how do you adjust perspective to find the possible opportunities?
How can the private sector look at challenges in a more holistic way?
How can a future-looking mindset be applied both internally and externally at your organization?
How can organizations utilize data to inform their future? And put it to work.
How to grapple with interconnectivity across business and societal challenges.
What's leadership got to do with it?
The challenges of today present opportunities for tomorrow. Join this November to explore how cross-sector innovation and collaboration can drive you forward.
Register today for early bird pricing. Prices increase August 31st.