3rd Annual Women Who Roar Summit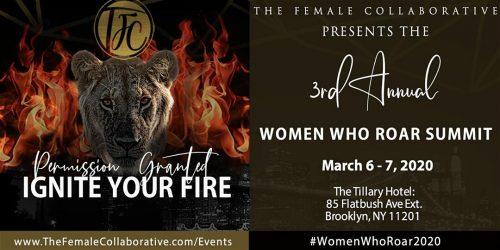 ADDRESS: 85 Flatbush Avenue Ext New York, NY 11201
Get Tickets
The Women Who Roar Summit attracts women from around the world for a 2 day experience comprised of keynotes, workshops, and thought provoking panel discussions. (Slight turn up included - because a gal needs her wine and fun time with the ladies). This is an experience like none other as attendees leave with their soul revitalized and a sharper mindset, empowering them to ignite the fire within and take the next big step in their personal and professional endeavors.
Network with indistry executives, entreprenuers, community advocates, and influencers who are all eager to collaborate and make magic together. Find your new business partner, investor, job, or bestie. Expect to be in a room full of value and diversity.
Preapre to learn about new business opportunities, connect with an affluent network of game changers, and walk away with strategies you can implement immediately to take your career or business to the next level.
We would be remiss if we did not mention that this is not your ordinary conference. We do things differently and with intent. This event will be comprised of raw truths, transparent dialogue, and the real deal behind what it takes to collaborate and WIN.
Tell your boss, team, business partner, and/or significant other, you are investing in yourself and taking a professional development weekend off to attend this one of a kind event. When they witness how much more value and self awreness you will bring to the table as a result of attending, they will thank you for it. Trust us.
Article continues below advertisement
OUT SUMMIT SELLS OUT EVERY YEAR. Make sure to register today before it's too late and to avoid experiencing MOJOR FOMO.
Separate registration for accommodations at the conference partner hotel is required in combination with TFC conference program ticket. We highly encourage you to stay at the hotel. Book Your Hotel Room for a 20% Discount here.
*For full Agenda, click here
Friday, March 6, 2020 ∙ Kickoff Evening Mixer - 6:30pm - 9:00pm Location: The Tillary Hotel
Be prepared to let your hair down, turn up, and mingle with fellow trailblazers. Enjoy our open wine bar and gourmet cheese platters from around the world. Our in house DJ will be sure to keep you on your feet, dancing the night away. Consider this your ladies night out!
Saturday, March 7, 2020 - Full Day Program - Location: The Tillary Hotel - 9:15am - 6:00pm.
VIP Spa Sessions: 8:15am - 9:45am ( For VIP Ticket Holders Only - Massages or Mini Facial + Makeup)
Registration & Continential Breakfast 9:15am
Fire Side Chat: Girl on Fire
Business Session: Living in a Digital World
Ladies Who Lunch with Purpose
Live Shamelessly: Owning Your Sexual Health
Breakout Session: Planting Seeds & Raising Capital
Goal Digger Mindset & Reflections
Giveaways, Silent Auction & Closing Remarks
Sunday, March 8, 2020 - Optional Brunch with TFC Board
Check out our speaker lineup here www.TheFemaleCollaborative.com/Events