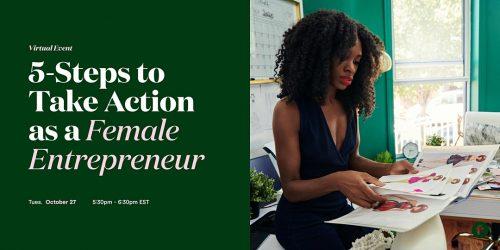 5-Steps To Take Action As Female Entrepreneur by Fiverr
By
Her Agenda Staff
Oct. 26 2020, Published 8:00 p.m. ET
Get Tickets
Are you an entrepreneur? Founder? Side-hustler? Hobbyist? Maybe you aren't sure what you are, but know that you want to do something more than you're doing right now. If you've ever felt like you weren't living out your true calling or living up to your full potential, you aren't alone.
Right now is time for us all to decide who we are going to be when the pandemic is over. Many of us have been given the gift of being forced to stay home and not clutter our minds with bars, get-togethers, and the everyday stuff that somehow gives us an excuse to put off taking action on our real passions and talents. We have been given the gift of time to find clarity on what we want out of life, and the chance to take massive action to make it happen.
Albert Einstein once said, "Everyone is a genius. But if you judge a fish by its ability to climb a tree, it will live its whole life believing that it is stupid." It's time to wake up the inner genius that is inside us all and stop being the fish trying to climb up trees.
This micro-masterclass is designed to provide you with practical tools to help you:
- Understand the power of your story and that is an asset for your drive as a founder
- Recognize what has held you back from taking action in the past
- Learn how to radically change your mindset and take confident action forward
- Empower yourself to change the quality of your life
Article continues below advertisement
This micro-masterclass will present the Rebel Genius 5-Step method to shifting your mindset and taking strategic action - whether you're a founder, an entrepreneur, a side hustler, a hobbyist, or someone simply figuring out what it means to live (and work) with purpose.
This will be an interactive, live online event and will include a 30 minute Q&A session where Kashish Parikh-Chopra will answer your questions on establishing a powerful mindset.
If you would like to submit questions or scenarios prior to the event, please email: kashish@therebelgenius.me
Attendees will be able to ask questions LIVE during the event as well.
This event will be hosted on Zoom Webinar. You will receive reminder emails leading up to this event with an orange button that reads "Go to online event page". Click this button to access the link to the webinar.
Community is more important now than ever. Fiverr's moving all of our Community Events online for now, so that you'll still be able to feel the support and connection you need, no matter where you are.