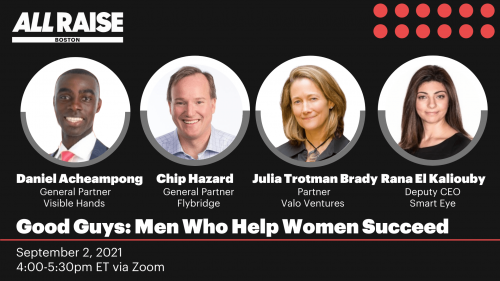 All Raise Boston Chapter: Good Guys - Men Who Help Women Succeed
By
Her Agenda Staff
Sep. 1 2021, Published 8:00 p.m. ET
Get Tickets
The "Good Guys: Men Who Help Women Succeed" event will include some of Boston's awesome male investors who have gone above and beyond supporting women they believe in. They will share stories about the big and small actions they have taken to increase national representation of female VCs and VC funded female founders.
This discussion will be relevant for both men and women, and will include a breakout room discussion, so come with questions and comments ready and please encourage a male mentor or associate to join!
Agenda: (subject to change)
4:00 - 4:45pm ET - Panel discussion, moderated by Julia Brady (Valo Ventures) Panelists: Chip Hazard (Flybridge), Daniel Acheampong (Visible Hands), Adrian Mendoza (Mendoza Ventures), Rana El Kalioby (Smart Eye), Lily Lyman (Underscore VC), and Sarah McCrary (GasBuddy).
4:45 - 5:15pm ET - Breakout Rooms Hosts: Mike Troiano (G20), Rick Grinnell (Glasswing), Chris Gardner (Underscore VC), Scott Tierney, Subodh Gupta and Sam Suskind (Valo Ventures), Charlie Hipwood (MassVentures), Danielle Johnson (Spark Fm Online), Veronica Armstrong (Isle De Nature), and Henry Ogbuagu (Vencapital).
Article continues below advertisement
Discussion to follow panel with room hosts and panelists joining smaller groups. Hosts will give female founders an opportunity to discuss their experiences: Do you think you have experienced gender bias in your current position? What are some examples? What are the best ways male allies can make an impact on a woman's career and standing in the business community?
5:15 - 5:30pm ET - Closing Remarks
Speakers
Chip Hazard
Flybridge
Daniel Acheampong
Visible Hands
Adrian Mendoza
Mendoza Ventures
Rana El Kaliouby
Smart Eye
Lily Lyman
Underscore VC
Sarah McCrary
GasBuddy
Julia Brady
Valo Ventures
Breakout Hosts
Mike Troiano
G20
Rick Grinnell
Glasswing
Chris Gardner
Underscore VC
Scott Tierney
Valo Ventures
Subodh Gupta
Valo Ventures
Sam Suskind
Valo Ventures
Charlie Hipwood
MassVentures
Danielle Johnson
Spark Fm Online
Veronica Armstrong
Isle De Nature
Henry Ogbuagu
Vencapital