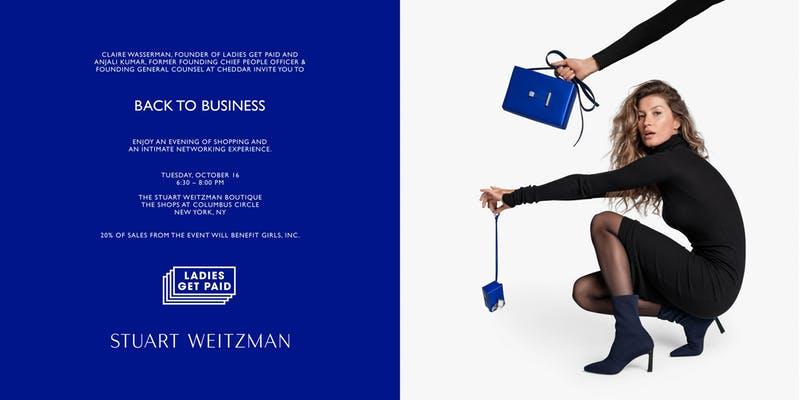 Back to Business with Stuart Weitzman x Ladies Get Paid: NYC
By
Her Agenda Staff
Oct. 15 2018, Published 8:00 p.m. ET
VENUE: The Shops at Columbus Circle
ADDRESS: 10 Columbus Cir, New York, NY 10019, USA
Get Tickets
When you think of someone powerful, what comes to mind? Is it an older, white man pounding his fist on the table? Given that less than 22% of women make it past middle management, it can be hard for us to imagine what it's like to gain power. If you can't see it, you can't be it, right?
Join us for an intimate networking experience plus a conversation on how to navigate workplace dynamics so we can rise up without changing who we are or compromising our values. Plus, we'll talk about tangible ways we can support our sisters since when one of us does well, we all do well. Food and beverage will be provided.
Our special guest is Anjali Kumar, a Brooklyn born, first generation Indian American author, attorney, advisor, speaker, and "idea acupuncturist". She was most recently the Founding Chief People Officer and Founding General Counsel at Cheddar, a news network start up based in Manhattan. Anjali was formerly the Founding Head of Social Innovation and Founding General Counsel at Warby Parker. Prior to joining Warby Parker, Anjali was Founding General Counsel at Acumen and Senior Counsel at Google where she was a commercial and product attorney on areas ranging from Google X to YouTube.
6:45pm: Fireside chat with Anjali Kumar
7:30pm: Mix, mingle, and shop. All proceeds will benefit Girls, Inc.