Catalyze Courage Summit 2020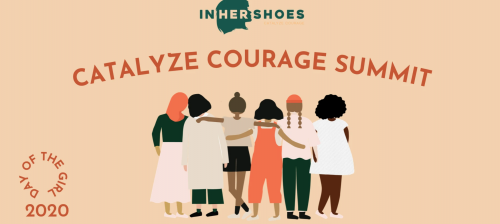 OCTOBER 12, 13, 14: WHAT THESE 3 DAYS ARE ABOUT
Courage across generations as access to furthering gender equity
Pushing forward Gender Equity
International Day of the Girl was created by the United Nations in 2012 with a belief that "reducing inequality strengthens economies and builds stable, resilient societies that give all individuals – including boys and men – the opportunity to fulfill their potential." Many approaches to Day of the Girl come from a global context. This year, InHerShoes is shining a light at the girls and youth in our own backyards.
About Catalyze Courage Summit
1% More Courage Across Generations
The Catalyze Courage Summit: Day of the Girl Child 2020 is a collective movement that taps into the power of women across generations to push forward gender equity.
To do this, we aim to provide participants with resources, practical steps, and user-friendly information to make informed decisions about HOW they can get involved and WHO they can get involved with to push forward gender equity.