Ciroc Mixer with the Latina Golfers Association-Power on HEELS Network- @ Hampton Inn & Suites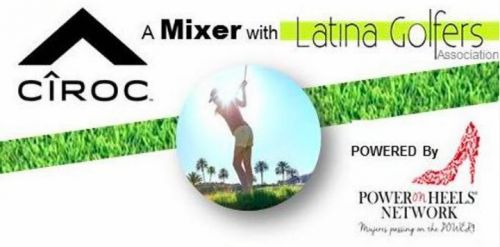 VENUE: Hampton Inn & Suites
ADDRESS: 5820 Katy Fwy, Houston, TX 77007, USA
Get Tickets
POWER on HEELS Network - an online digital community on Facebook for Mujeres to pass on their power and encourage one another along their business journey presents CIROC-a mixer featuring Azucena Maldonado, the Founder of the Latina Golfers Association to share her expertise on how playing golf is the ultimate business/professional networking experience.
Executives and entrepreneurs play golf to establish closer relationships with their associates and clients and to make new business contacts. For years, women have been left out of this elite circle. One quarter of the 25 million golfers in the U.S. are top management executives and a full 80% of that number agreed that the game of golf is an important business development tool.
The Latina Golfers Association wants to help women break these barriers through golf. Establishing personal relationships on the golf course is how a round of golf translates into business success. Proceeds for this event will benefit the POWER On Heels Fund, Inc a 501 c-3 nonprofit providing scholarships for Latina professionals and business owners.
The ticket price includes 2 Ciroc specialty cocktails, catering provided by Snapper Jack and delicious desserts courtesy of Sugar Dose by Johnana. CIROC also includes a unique twist on speed dating with a "speed networking" session so you can learn to maximize every networking experience on or off the course! Tickets will also be available at the door for $50 so be sure to grab your ticket in advance!
Hosted By: Power on HEELS Network