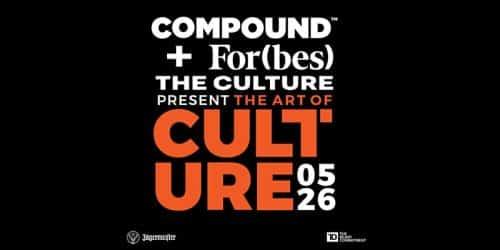 Compound presents: 'The Art of Culture' Virtual Exhibition
By
Her Agenda Staff
May 25 2021, Published 8:00 p.m. ET
Get Tickets
Join COMPOUND presents: The Art of Culture in partnership with For(bes) The Culture A virtual gallery exhibition featuring 7 artists opening night, May 26pm 7pm at compound.gallery
Hosted by Set Free, Compound and Rashaad Lambert, Forbes The Culture
Compound Gallery hosting their second virtual exhibition, designed by dotdotdash and Compound multimedia artist Noel Mbaso, this exhibition features 7 artists' works that creatively depict their perspectives on the culture, community, and social consciousness.
Original works will be available for sale including limited edition prints, and NFTs, in partnership with The Break0uts, a multi-dimensional group that teams up with creators, curators and brands to offer immutable digital and physical art and collectibles through their own scalable and sustainable blockchain technology platform.
A portion of all proceeds will go towards the Black Artist Fund, a non profit organization directly supporting Black artists combating systemic inequity in art.
Sponsored by Jägermeister #savethenight, their campaign offers both trade and creative communities access to paid and professional opportunities needed to push forward and continue creating in art.
Sponsored by TD Bank and their corporate citizenship platform, The Ready Commitment, we're investing in opportunities for diverse groups to come together and get involved in their local area to create shared experiences for people from different walks of life, support arts and culture that reflect diverse voices, help people feel a sense of belonging to their local community, elevate the quality of the environment and drive economic well-being
The Art of Culture exhibition will be on view via compound.gallery through June 26, 2021
RSVP TO RECEIVE A DISCOUNT CODE FOR JÄGERMEISTER GIFT