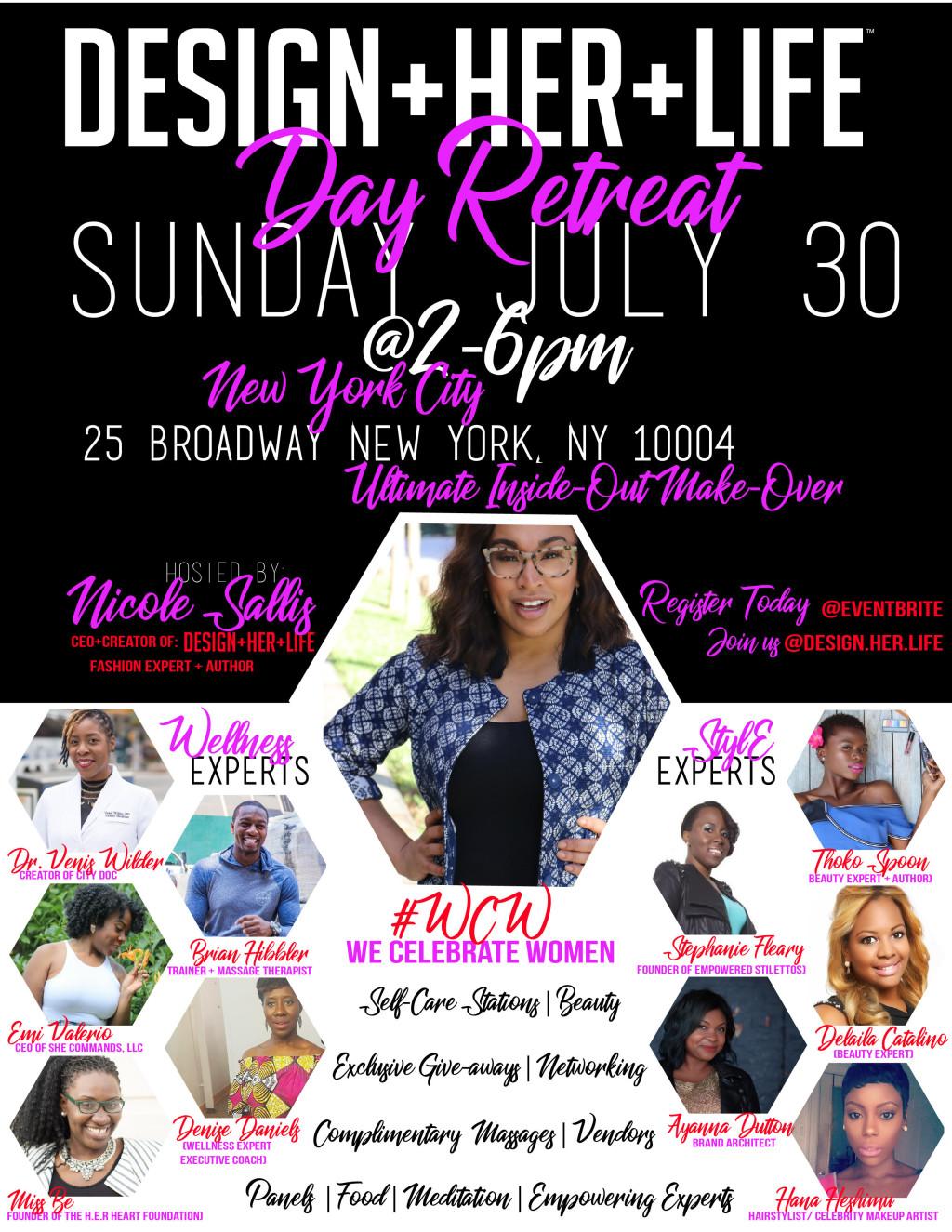 Design+Her+Life Day Retreat: Empowerment and Self Care
By
Her Agenda Staff
Jul. 29 2017, Published 8:00 p.m. ET
ADDRESS: 25 Broadway, New York, NY 10004, USA
On Sunday July 30th, Nicole Sallis, founder of Design+Her+Life will be hosting a day retreat. Get ready for a rejuvenating day of empowerment filled with custom self-care stations, complimentary massages, treats, powerful experts, vendors, exclusive giveaways and so much more. This event is sure to be a retreat that will help you close out July with an unbelievable bang.
As an added bonus, Meet Me Series Founder Ayanna Dutton will be speaking on the panel during the Authenticity + Style Panel. For those of you who are supporters of the Meet Me Community we encourage you to attend this event to continue building your network and expanding on your brand, personally and professionally.
2:00 - 2:20 Grounding + Welcome
2:20 - 3:25 Self-Care Stations
3:30 - 4:10 Wellness Panel
Think of Wellness in the context of Mind, Body + Spirit. We will have a beneficial conversation about Women's health, healthy self-care, uplifting emotions, reducing stress levels, improving sleep, managing weight + increasing your vitality.
Special Guest Panelist:
Dr. Venis Wilder (Creator of City Doc)
Brian Hibbler (Trainer + Massage Therapist)
Emi Valerio (CEO of She Commands, LLC)
Miss Be (Coach + Founder of the H.E.R Heart Foundation)
4:20 - 5:00 Authenticity + Style Panel
Design+Her+Life focuses on the Ultimate Inside Out Make-Over. This powerful discussion will explore, how our Authenticity, Confidence + Self-Love is connected to how we show up in the world even as it pertains to beauty + all around personal style.
Special Guest Panelist:
Thoko Spoon (Beauty Expert + Author)
Hana Heshimu (Hairstylist + Makeup Artist)
Stephanie Fleary (Founder of Empowered Stilettos)
Ayanna Dutton (Brand Architect + Experience Innovator)
Delaila Catalino (Chief Creator + Connector)
Click here to purchase tickets NOW