Digital Influencers Meet PR Pros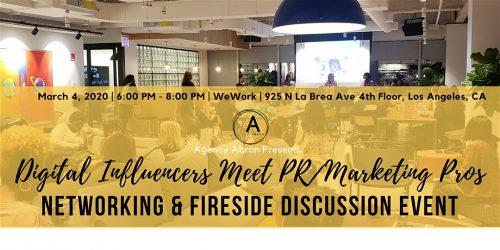 ADDRESS: 925 N La Brea Ave 4th Floor Los Angeles, CA 90038
Get Tickets
The Digital Influencers Meet PR Pros events are created to provide a platform for compelling conversations on the increasingly pertinent relationship between bloggers, social media influencers, and public relations professionals.
It's known that the relationship between PR professionals and bloggers/social influencers is a mutual necessity, and it's pertinent that both parties have an understanding of each other's professions.
With this in mind, one topic of contention amongst PR professionals and digital influencers is "earned media" - mention of a brand on a media platform without compensation.
During this conversation, we will cut the fat and dive right in to discuss:
What is "earned media?"
Why do PR professionals reach out to digital influencers for non-paid efforts?
Why do some digital influencers consider earned media B.S?
Are digital influencers willing to assist with earned media, or is this a pipe dream for PR professionals?
What are some solutions that can make both professionals content?
Article continues below advertisement
Sponsored By: Agency Abron
Event Flow:
6:00 p.m. - 6:30 p.m. - Check-in/light networking/refreshments
6:30 p.m. - 7:00 p.m. - Networking activity
7:00 p.m. - 7:30 p.m. Discussion
7:30 p.m. - 8:00 p.m. Q&A (questions from attendee registration will be considered during this portion)
8:00 p.m. - 8:30 p.m. Closing, final thoughts, networking