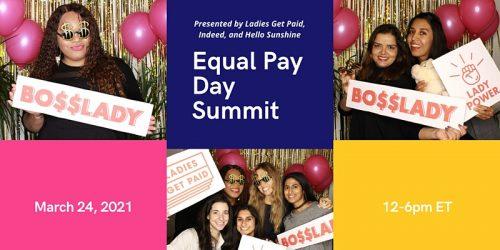 Equal Pay Day Summit 2021
By
Her Agenda Staff
Mar. 23 2021, Published 8:00 p.m. ET
Get Tickets
Due to the wage gap, it's estimated that women lose $500-1 million over a lifetime. Women are more likely to live in poverty and the majority of jobs lost during the pandemic were held by us. This is a crisis we cannot ignore.
The question is, what can we do?
Please join Ladies Get Paid for a day of education and enlightenment, featuring incredible women who are fighting for change. You'll walk away with tangible steps on how to achieve pay parity in your life, and in the lives of all women.
With the exception of workshops, all content will be available afterward on the Ladies Get Paid YouTube channel.
12pm - Welcome
12:15pm - Talk: Set Yourself Up for Career Success
12:30pm - Workshop: Negotiate Your Salary + Get Paid What You Deserve
1:20pm - Workshop: Achieve Financial Freedom
2pm - Panel: How to Protect Our Caregivers and Service Workers
2:35pm - Talk: How Your Company Thinks About Equal Pay
2:50pm - Panel: Paid Family Leave and How We Can Support Moms
3:25pm - Workshop: Fair Play Your Way to Work-Life Integration
4:50pm - Talk: What About Native Women?
5:05pm - Workshop: Build Generational Wealth
6pm - Closing remarks
Article continues below advertisement
Ladies Get Paid is a book, organization, and global community that helps women advance professionally and financially.
Indeed is the #1 job site in the world, giving people free access to search for jobs, post resumes, and research companies.
Hello Sunshine is a media company that puts women at the center of every story.