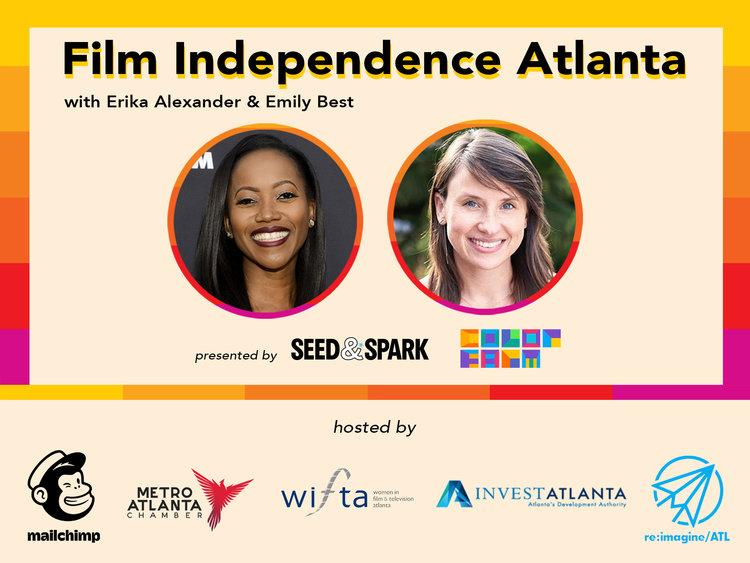 Film Independence Atlanta: ATL
By
Her Agenda Staff
Oct. 19 2018, Published 8:00 p.m. ET
ADDRESS: 1049 Ponce De Leon Ave NE, Atlanta, GA 30306, USA
Get Tickets
Atlanta is not just the production capital of North America, but poised to be the leading entertainment city in the world. In 2018, what it takes to build a thriving, independent film scene looks different from even just 15 years ago. The internet has cracked open opportunities and presents new challenges to building a creative career. That's why we've organized this conference.
Meet Erika Alexander (Living Single, Get Out) actress, writer and co-founder of Color Farm Media; and Emily Best, founder and CEO of Seed&Spark - the world's most successful crowdfunding platform for movies and shows. Together they bring you a half-day of events to connect creators to the tools to supercharge your truly independent, sustainable career in filmmaking.
We will offer two workshops built to help you build an audience, practice your pitch, and effectively raise the funds to bring your story to life, as well as an amazing panel featuring Atlanta-based film creatives at all levels of the industry.
9:30am Doors open
10:00am Workshop: Crowdfunding to Build Independence, facilitated by Seed&Spark
12:00pm Atlanta Film Creatives Panel: Erika Alexander (Color Farm Media, Living Single), Erin Bernhardt (Producer+Director, Little Roar), Lisa Cunningham (Producer+Director, Atlanta Film Partners), Sheoyki Jones (Invest Atlanta), Van Jensen (writer, Publisher ArtsATL)
1:30pm Workshop: Art of the Pitch, facilitated by Seed&Spark
Crowdfunding to Build Independence
Article continues below advertisement
You will learn the tools for creative independence through the techniques of successful crowdfunding: how to identify your audiences, bring them on board as followers and eventual funders, build meaningful partnerships to scale your reach, and create the most enticing possible pitch to audiences. Then, you'll learn how to read the tea leaves of the data you gather in this process to increase the value of your IP and retain creative control.
Learn directly from the creative minds making a living and building the industry in Atlanta. The panel represents and incredibly rangs of resources and experience: from education and writing, to public and private andcrowd-funding for music videos, commercials, tv, comics, featuers and documentary.
This workshop is about connecting what you really want to do with your career - that big, hairy, audacious goal - with the steps it takes to get there, and how you have to be prepared to pitch to different constituents along the way. This ties what you learn in the first workshop and the panel to how to pitch to brands and investors, to really develop a robust business model for your independent creative career.
Film Independence Atlanta is an event presented by Seed&Spark and Color Farm Media in partnership with Mailchimp, Re:ImagineATL, Metro Atlanta Chamber, Invest Atlanta, ChooseATL, THEA and WIFTA.
What are my transportation/parking options for getting to and from the event?
There is parking in front of and behind this location, as well as abundant street parking.
**By RSVPing to this event, you allow the host and event sponsors to contact you via email, including Shutterstock, G-Technology, Seed&Spark and Mailchimp**