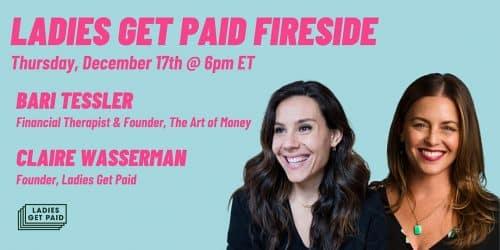 Financial Therapy Fireside w/ Bari Tessler
By
Her Agenda Staff
Dec. 16 2020, Published 7:00 p.m. ET
Get Tickets
Join Bari Tessler, Financial Therapist, Mamapreneur, and Founder of The Art of Money, in conversation with Ladies Get Paid Founder, Claire Wasserman.
In working with thousands of individuals, couples, and creative entrepreneurs over the past 18 years, Bari has learned that almost nobody receives a real education about money, let alone how to navigate our emotions around it.
If you've tried strongarming yourself into budgeting, but fell off the wagon…or if you're craving a more creative, mindful, and deep approach to money (and all the facets of your life it touches) — you're in the right place.
Bari's holistic, integrated approach honors three phases of deep money work:
Money Healing: Untangle your emotional patterns around money through mindfulness, gentle therapeutic inquiry, and body-based practices.
Money Practices: Transform money into a meaningful, supportive self-care practice, baby step by baby step.
Money Maps: Put money in service of your values and dreams by honoring the grand trajectory of your life: where you are and where you'd love to go.
Article continues below advertisement
Bari Tessler Linden, M.A., is a Financial Therapist, Mentor Coach, Mama-preneur, and the Founder of The Art of Money. She has guided thousands of people to new, empowered, and refreshingly honest relationships with money through her nurturing, body-centered approach.
Her methodology weaves together personal, couple, and creative entrepreneurial money teachings into one complete tapestry. She is the founder of The Art of Money: a year-long money school, which integrates Money Healing, Money Practices and Money Maps.
Every year, 500+ students, from around the globe, go through the year-long, Art of Money program. Her work has been featured on Oprah.com, Inc.com, the Huffington Post, Inc., US News & World Report, Reuters Money, The Fiscal Times, USA Today, The Cut, Girlboss, Nerd Wallet, The Simple Dollar, Real Simple, REDBOOK Magazine. She has also been featured on the cover of Experience Life Magazine and Mindful Magazine.
Bari is the author of The Art of Money: A Life-Changing Guide to Financial Happiness, published by Parallax Press on June 14th, 2016. She lives with her husband, son, and many cats in Boulder, CO. Learn more about Bari on her website right here and follow her on Instagram and Facebook.
Claire Wasserman is an educator, author, and founder of Ladies Get Paid, a global community that champions the professional and financial advancement of women. She is also a producer and host of John Hancock's podcast, Friends Who Talk About Money. Claire has traveled the country teaching thousands of women how to negotiate millions of dollars in raises, start businesses, and advocate for themselves in the workplace. Claire was named one of Entrepreneur Magazine's 100 Most Powerful Women and is a highly-sought-after expert for Fortune 500 companies working to improve diversity, equity, inclusion, and belonging within their organizations.