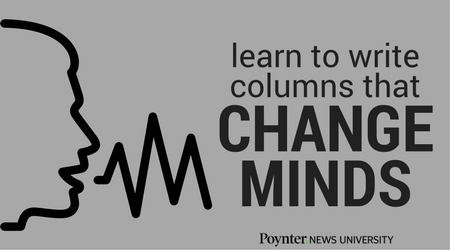 Finding Your Voice: Writing for Columns and Blogs
By Her Agenda Staff

Aug. 24 2017, Published 8:00 p.m. ET
There was a time when a columnist's job was journalism's equivalent of the Supreme Court. You had the newspaper's final word, and you had a job for life.
But times change, and so has the role of a columnist. Social media has turned everyone into pundits. You don't need a journalism degree and 20 years of experience to offer your take on world or local or sporting affairs – all you need is Facebook and a sizable ego.
So if you want to distinguish yourself in a way that matters, today's columnist needs to bring something to the table besides an opinion and the occasional family pet anecdote.
The trick is figuring out the best way to do that.
Article continues below advertisement
This course will tackle some of the essential ingredients that make a well-read columnist. Along the way, you might even learn to drink like Mike Royko.
Among the topics covered:
The eternal search for ideas
Choosing the right tone
Ignoring the rules
The price of credibility
Article continues below advertisement
This is going to be a collaborative venture. If it works well, it should have the feel of a bunch of writers comparing notes and kicking around ideas at lunch. Lectures suck. Conversations rule.
Live online class dates (each session lasts about an hour unless specified otherwise)
Week 1: Tuesday, August 29, 3:30 to 4:30 p.m. Eastern
Week 2: Tuesday, September 5, 3:30 to 4:30 p.m. Eastern
Week 3: Tuesday, September 12, 3:30 to 4:30 p.m. Eastern
Week 4: Tuesday, September 19, 3:30 to 4:30 p.m. Eastern
How to find ideas for columns in your communities
How to choose the best tone for the column
When and how to determine which rules to follow
How to build credibility and brand