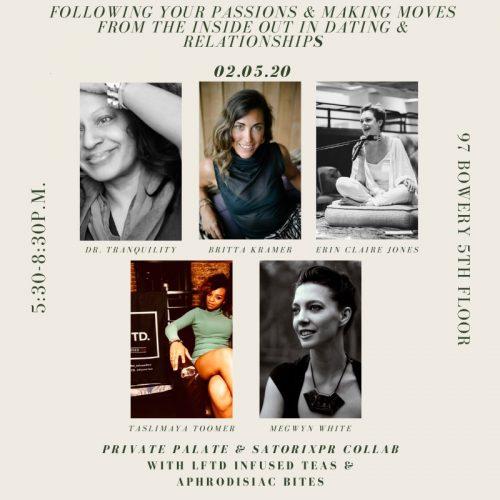 Following Your Passions & Making Moves in Dating & Relationships
By
Her Agenda Staff
Feb. 4 2020, Published 7:00 p.m. ET
ADDRESS: 97 Bowery New York, NY 10002
Get Tickets
This evening is all about dating & relationships from the inside out starting with who's most important....you. From setting intentions effectively, to gearing up your action plan & all the little goodies along the way.
In this second stimulating session of "Following Your Passion & Making Moves", we'll share some of the most successful approaches to actualizing your feminine desires with these leading experts:
Erin Claire Jones​ erinclairejones.com​ shares her work on Human Design & Leadership. Human Design is a synthesis of ancient wisdom — Astrology, the I Ching, the Chakras, the Kabbalah — with modern science — Quantum Physics and Genetics.Human Design sheds light on your emotional, psychological and energetic makeup, giving you the self-awareness and tools to align with your nature and step into your highest potential in every area of your life — in your career, partnership and relationships. Erin helps founders & leaders attain their goals & has been featured on Forbes.com ,Nylon,Well + Good and on numerous podcasts nationally.She is a very sought after speaker with numerous appearances nationally including The Assemblage NYC. She has a private practice in New York City.
Article continues below advertisement
Megwyn White of ​hapticbody.com​ She is a Somatic Sensual Guide and the Director of education at the Satisfyer a leading Sexual Wellness company. She has focused her work on the bio-electrical nature of the body, and the power of orgasm to expand the potential of physical and mental well-being. She has been a leading presenter at the Yale School of Consciousness, the Assemblage here in New York, and is a contributor for the Sex and Medicine Summit,Refinery 29 & more.She has a private practice based in NYC and supports individuals and couples in healing disconnection, and dis-association with her own methodology which is Haptic Body.
Britta Kramer ​privatepalate.com ​ is a Wellness Chef, Stylist and Experiential Designer. From hosting intentional dinners, workshops & retreats to collaborating with creative teams for video & photo shoots, Her​ clients are fitness-oriented individuals, A-list celebrities and top performers in the NBA, MLB, PGA and NHL and brands such as VH1, Harpo Productions, Harley Davidson and Helmet Lang. Britta believes in intentional living not only through the food we eat but through self-care which in turn affects our relationships.
Article continues below advertisement
Tasliymah Toomer is the owner of LFTD Infused Tea, a bottled tea cocktail that includes high quality ingredients including alcohol and/or cannabis. Tasliymah is naturally a self motivated entrepreneur who used her talent in art and business to build a innovative brand. She earned her Masters in Business in 2014. She finally decided to chase her once deferred dreams, following her passion and founded her business as LFTD Spirits in August of 2017. These natural tea blends that are infused with alcohol or cannabis, started as a better alternative for recreational purposes. Today it is now becoming the option for holistic healing such as pain relief, stress, anxiety and insomnia as it hones in on the benefits these natural herbs and tonics yield. In a world where pain killers are popular for killing the user it is imperative that we focus on our well being, physically, mentally and socially even if it starts with one tea cup at a time. natural born educator teaching & sharing her magical secrets will offer both during our event as share tips on using herbs and making the teas in your own special tea @home. Taslimaya Understandably is a sought after interview & can be found at numerous events, markets & shows around NYC & Brooklyn,NY.
The Moderating & Curator for the evening, Dr.Tranquility, Lydia is a mental health expert with a background in Psychology, Relaxation Physiology for Mind-Body Medicine from Harvard University's Mind - Body Institute In affiliation with Mass General and Columbia University's Rosenthal Center in Botanical Medicine. She is additionally a Hypnotic-Anesthesiologist who worked as an early response therapist during 911 in NYC and for many other outreach programs and organizations as diverse as International Red Cross and The Children's Museum of Manhattan Steering Committee. She is a recognized expert in Relaxation Physiology & Dating. For 2 years she penned a column on Cupid's Pulse.datetherapy.com & consciousdating.co
Throughout the evening she will share her manifesting tips, stress-relieving hacks & secrets to get that Oxytocin (the cuddle, attraction & bonding hormone) flowing by utilizing Neuroscience, Psychology and Mind Body Protocols with a splash of Dopamine (pleasure centers) to create an elixir for the mind & body. Dr. Tranquility can be found on satorixpr.com, ConsciousDating.co & datetherapy.com, on air in Greenwich, Hamptons & NYC. She has been featured in Forbes.com, abcnews.com, on The View, Glamour,BBC Radio London , Cosmo & Redbook etc. She is in private practice in NYC. drtranquility.coFREE Alcohol Infused Teas (non- alcohol free option available). by LFTD Infused Tea.Bites from Private Palate .Raffles from Satisfyer & more !