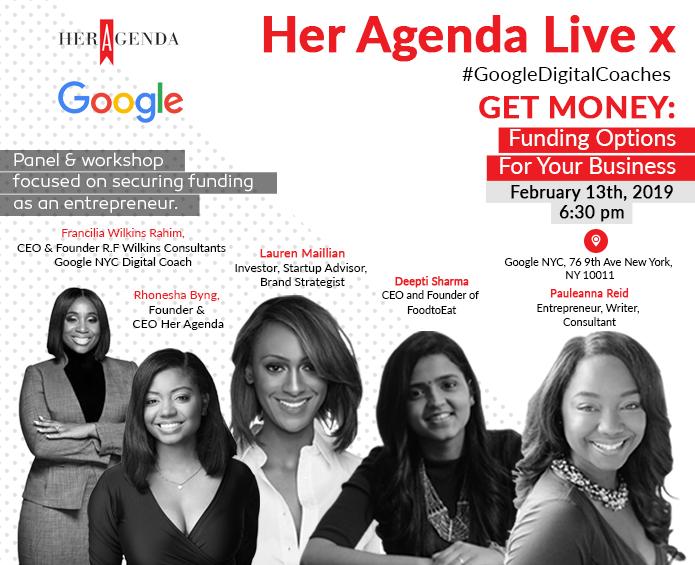 Google x Her Agenda: Funding Options For Your Business
By
Her Agenda Staff
Feb. 12 2019, Published 7:00 p.m. ET
ADDRESS: 76 9th Ave New York, NY 10011
Get Tickets
Her Agenda has teamed up with Google Digital coaches to host an inspiring and informative event and workshop breaking down funding options for small businesses.
It takes money to make money but as a new founder it's easier said than done to secure funding for your business. The investor route is most often spoken about when it comes to raising money, but are there alternative methods to get the funding you need to launch? During this event, we'll explore all options available to entrepreneurs to raise capital.
6:30 pm Opening reception with light bites, wine
7:30 pm Presentation/workshop from NYC Digital Coach Francilia Wilkins Rahim
8:00 pm All speaker q&a session
Lauren Maillian is a former model turned serial entrepreneur; she is the Founder and CEO of LMB Group, a strategic marketing and advisory company, is a Founding Partner at Gen Y Capital Partners, and is the author of the instant bestselling business memoir, The Path Redefined: Getting To the Top On Your Own Terms. Most recently, Lauren has brought her trademark personality and passion for entrepreneurship to television as co-star of the new startup focused reality TV show, Quit Your Day Job, on Oxygen (NBCU).
Article continues below advertisement
Lauren's work has been featured in national media outlets including Forbes, American Express OPEN Forum, Interactive ONE, Sirius XM Radio, 1010 WIN's, HufPost LIVE, UPTOWN Magazine, CNBC's Nightly Business Report, MSNBC, FOX 5, CBS New York, Business Insider, Fast Company, and Black Enterprise. In 2011 she was recognized at The White House by the Kaufman Foundation as an Empact100 Award honoree which lists the top 100 entrepreneurs under 30 and in 2013, Essence Magazine named Lauren a "Shot Caller" to watch in business. In 2014, the New York Urban League's Young Professionals awarded Lauren the honor of Philanthropist of the Year for her charitable involvement and dedication to giving back, in 2015 Kia Motors and UPTOWN Magazine awarded Lauren for being Inspirationally Crafted for her leadership and fearless entrepreneurial journey and in 2015, Smart CEO Magazine named Lauren as a Smart CEO Brava Award Winner. She is an active advisor to several startups including the Levo League and the Pipeline Fellowship.
Pauleanna Reid is the co-founder of New Girl on the Block, a mentorship platform for millennial women; helping them navigate the path between professional success and personal fulfillment. Her passions include advocacy for anti-bullying and mental health in which she contributes her time spreading awareness, providing expertise on media platforms and delivering keynote talks in schools nationwide. When she is not working with young adults, she is growing her brand as a professional writer. She has successfully crafted a business in storytelling as a journalist, author, celebrity ghostwriter and Senior Contributor for ForbesWomen.
Article continues below advertisement
A lifelong entrepreneur, Deepti is the CEO and Founder of FoodtoEat, a community-minded catering concierge service. She started FoodtoEat in 2011 to connect immigrant, women and minority-owned food vendors to opportunities for growth - ultimately helping them strengthen their own business skills. FoodtoEat helps businesses feed employees great food and build stronger & more diverse work cultures. She is also a Co-Founder of Bikky, a platform solving customer engagement for restaurants.
As a mother and small business owner, Deepti is a vocal advocate for policies that benefit these communities. She served on the Board for the Business Center for New Americans, a non-profit that encourages immigrant entrepreneurship by providing micro-loans and financial education. She also writes about how companies can modernize motherhood in the workplace, and mentors female entrepreneurs as part of the NYC Mayor's WENYC initiative.