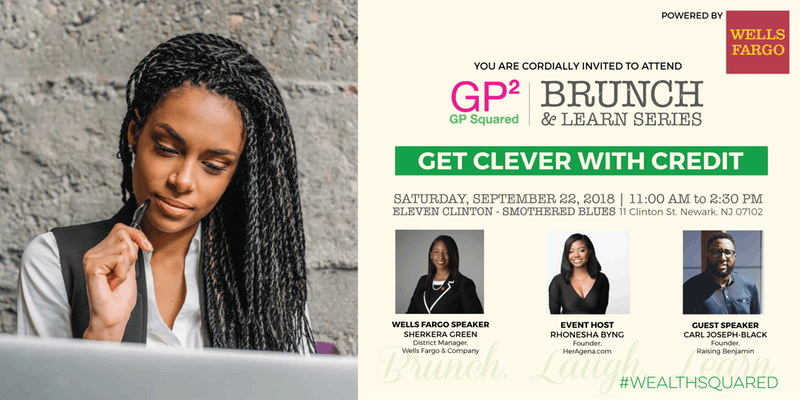 GP Squared Brunch & Learn - Get Clever with Credit
By
Her Agenda Staff
Sep. 21 2018, Published 8:00 p.m. ET
VENUE: Eleven Clinton - Smothered Blues
ADDRESS: 11 Clinton St, Newark, NJ 07102, USA
Get Tickets
Our GP Squared Hostess is Rhonesha Byng, founder of HerAgenda.com is an exclusive member of the esteemed 30 Under 30 group of Forbes Magazine. She also writes for Forbes and promotes her well known HerAgenda.com platform.
Our September 22nd event share how to Get Clever with Credit. It's all about beating the system, without the system beating you. Rhonesha will host a lively Fireside Chat with our special guest, Carl Joseph-Black, a young financial social influencer on the rise, and the Founder of Raising Benjamin. They will discuss all the important things you need to know about credit. How to use it, when to use it, how to get it and how to fix it.
Carl Joseph-Black is a law student and his platform, Raising Benjamin is dedicated to increasing the wealth of young black millennials. He shares insights into finance that are as easy to learn as a Drake verse. After obtaining his Bachelor's degree in Finance from the Kutztown University of Pennsylvania in 2011 he immediately began his career at a major Wall Street firm, where he spent 4 years working in Risk Research and Legal & Compliance. Through his work, he found the need for financial literacy and empowerment among minority communities. This inspired him to create Raising Benjamin. During his spare time, he likes to drink Kombucha while reading the Wall Street Journal and advises local businesses on growth strategies. If he isn't doing those things he's probably listening to Drake somewhere.
We will also hear a powerful keynote talk from Sherkera Green of Wells Fargo Bank who heads up the entire Newark banking region. Sherkera will add fuel to the conversation Get Clever with Credit, by adding a financial institutions point of view when it comes to credit tips.
While you learn how to supercharge your finances, you can enjoy a sumptuous brunch and dessert from Eleven Clinton: Smothered Blues, with a full selection of brunch dishes served up with love. We like to learn and brunch with great food, music, and friends.
Social media is encouraged to share the wealth using our hastag #WeatlhSquared.
Our exclusive financial sponsor is Wells Fargo Bank.
Free parking is available.