GP Squared Brunch & Learn Series— Her Wealth Journey: Access, Accumulate, and Align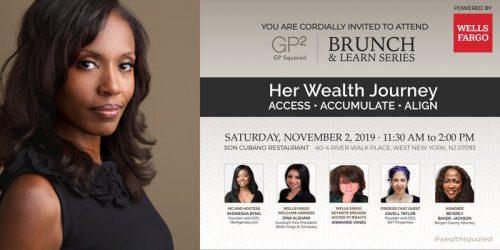 VENUE: Son Cubano Restaurant On The Hudson
ADDRESS: 40-4 Riverwalk Place West New York, NJ 07093
Get Tickets
Get ready for an amazing experience at the 5th annual GP Squared Brunch & Learn Series: Her Wealth Journey: Access, Accumulate, and Align.
This event will explore the journey toward building real and rewarding wealth -- the pathways to access, what it takes to build wealth, and how to make it work for you, your family and your community for generations to come. We will explore the nature of what wealth is today, and why it is more than just money alone. Wells Fargo Bank is the valued sponsor of this event.
The hostess will be our very own, the lovely and talented Rhonesha Byng, CEO and Founder of HerAgenda.com. Rhonesha is a talented journalist who was named one of the esteemed Forbes 30 Under 30.
Dina Alshami, VP at Wells Fargo Bank will give the Welcome Adress. And the Keynote Address will be given by AnnMarie VanEs, of Wells Fargo Bank. She will talk about Access to Wealth and how a strong financial partner combined with strong objectives and strategies can help you on the path to wealth.
The Fireside Chat will feature Kavell Taylor, Founder, and CEO of SKT Properties and will focus on accumulating wealth. Kavell is a female real estate developer who built her way to the top of the real estate game, often going toe to toe with highly competitive male counterparts.
Article continues below advertisement
The event will also honor Bergen County's beloved Beverly Baker-Jackson with the Wealthy & Wise Community Leadership Award. Beverly is a North Bergen County-based Attorney, Real Estate Investor, and Civic Leader. She has been active in community leadership roles with the Links Incorporated and The National Coalition of 100 Black Women, Bergen County Chapters. She also owns a charming one of a kind hat shop on Palisades Avenue in Englewood. She will share her formula for being successful in all areas of life while continuously helping others and giving back to the community.
Join women from all over the area for a day of learning, lunching, living and loving as we celebrate ourselves with Her WealthJourney: Access, Accumulate and Align!
The exclusive financial sponsor is Wells Fargo Bank.
Valet parking is available.