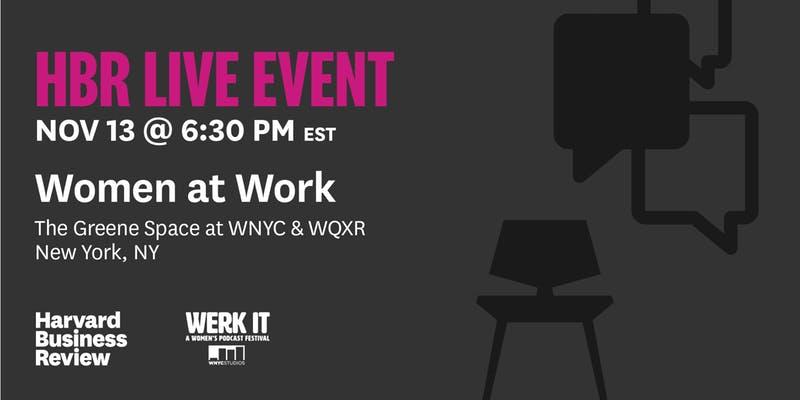 HBR Live - Women At Work: NYC
By
Her Agenda Staff
Nov. 12 2018, Published 7:00 p.m. ET
ADDRESS: 44 Charlton St, New York, NY 10014, USA
Get Tickets
Self-Disclosure at Work (and Behind the Mic) Without Oversharing
Join the hosts of Women at Work for a special live podcast event as part of the Werk It festival!
Research suggests that self-disclosure at work can build relationships with colleagues, make leaders more trusted, and create a sense of intimacy and camaraderie at work. Podcasting also relies heavily on self-disclosure to build a sense of authenticity and personal connection. But it's not easy to self-disclose skillfully in either context.
With the Women at Work podcast, HBR dipped a toe into personal disclosure really for the first time in our 90+ year history. Why did we think it was important to do that with this show? What conversations did we have to get us going? What's the role of our producer in pushing hosts to talk about themselves and filtering what they say? And what have we learned, both as podcast hosts and as colleagues and managers?
We'll share stories, research, and practical advice for strategic self-disclosure, and then take time for audience questions/reflections. The panel will feature all three Women at Work hosts (Amy Bernstein, Nicole Torres, Sarah Green Carmichael) and guest expert Columbia Business School professor Katherine Phillips. Women at Work producer Amanda Kersey will moderate.
Article continues below advertisement
The price of admission includes a copy of HBR's 10 Must Reads on Women and Leadership. Ticket holders must be present to receive the book.
6 p.m. Doors open (light food and drinks will be served)
6:30 - 7:30 p.m. Event and Q&A
7:30 - 8 p.m. Networking reception
Amy Bernstein is the editor of Harvard Business Review. She has also held senior roles at ManpowerGroup, strategy+business, Business 2.0, The Industry Standard, Brill's Content, and U.S. News & World Report.
Sarah Green Carmichael is an executive editor at Harvard Business Review. She hosts the HBR IdeaCast podcast and is a regular speaker and moderator at conferences like SXSW, the Drucker Forum, and Thinkers50.
Nicole Torres is an associate editor at Harvard Business Review, where she focuses on new research related to gender, diversity, and health care. She has also written for the Boston Globe, Salon, and Details magazine.
Amanda Kersey is an independent audio producer and reporter. She has also produced HBR's IdeaCast podcast, done radio stories for PRI's The World, and been a multimedia producer at WGBH.
Katherine W. Phillips is the Reuben Mark Professor of Organizational Character and Director of the Sanford C. Bernstein & Co. Center for Leadership and Ethics at Columbia Business School in New York City. She studies diversity, information sharing, status, minority influence, identity management, stereotyping, decision-making, and performance in work groups.