High Water Women Investing For Impact Symposium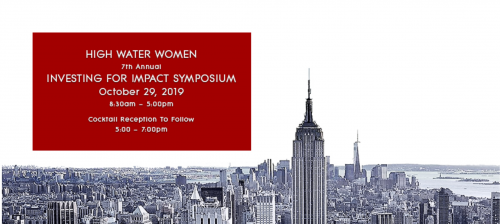 VENUE: CUNY Graduate Center
ADDRESS: 365 5th Ave. New York, New York, 10016
Get Tickets
Since 2013, High Water Women's Investing For Impact Symposium
has evolved into an important gathering for impact investors who want to connect
with other investors, advisors, and investment professionals.
Our name derives from the high water mark measure that incentivizes hedge funds to outperform their last best gains. By seeking to surpass prior achievements with each new endeavor, our organization and our members produce amazing results.
Founded in 2005 and incorporated as a 501 (c)(3) by a small group of senior women from the hedge fund and investment communities, High Water Women has grown to engage women throughout the financial services sector in volunteerism and philanthropic giving. We now have more than 3500 members across the financial services spectrum and partnerships with dozens of nonprofits, schools and public agencies where our volunteers perform thousands of volunteer hours to each year.