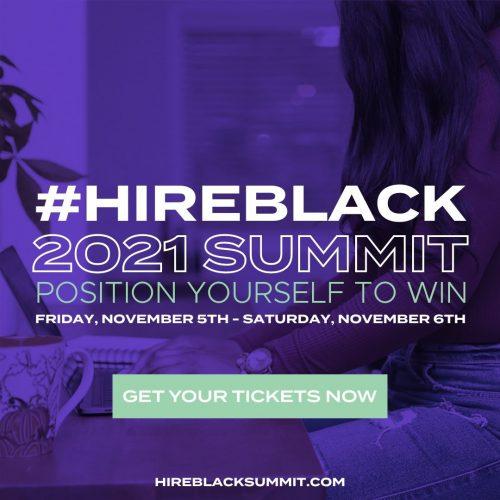 #HIREBLACKSUMMIT 2021 Summit
By
Her Agenda Staff
Nov. 4 2021, Published 8:00 p.m. ET
Get Tickets
The 2021 #HIREBLACK Summit—A Virtual Empowerment & Career Strategy Retreat—is coming for necks, job titles, accolades, and coins. Every detail has been carefully curated with your elevation in mind, sis. And the best part? You get to bring your whole self. No code-switching required.
WHY ATTEND?
Here are a few reasons why you need to pull-up:
FIND YOUR TRIBE
✦ Industry Audio Conversations
✦ Live Chats & Polls
✦ Attendee Profiles
✦ Shoot Your Shot LIVE Pitches
MAKE MONEY MOVES
✦ Career Development Workshops ✦ Customize Your Career Playbook
✦ Career Coaching & Resume Review
SECURE A BAG
✦ #NOWHIRING Booths
✦ Mega Resume Drop
✦ Sponsor Chats
✦ Information Sessions
PLUS WALK AWAY WITH YOUR VERY OWN CUSTOMIZED CAREER PLAYBOOK!
At the end of the event, you'll walk away with a customized Career Playbook consisting of session worksheets that help you plan for your next career move.