How To Advocate For Culturally Diverse Women In Your WorkplaceHow To Advocate For Culturally Diverse Women In Your Workplace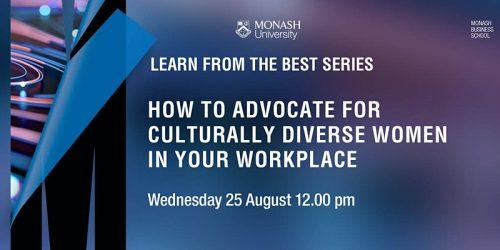 Get Tickets
Div Pillay, who is changing the dialogue of gender equality in Australia to include culturally diverse women. She will showcase how to create equity and equality for professional women from migrant, refugee, asylum seeker heritages through a fire-side conversation with her clients, a C-suite leader, Coretta Bessi (Chief Procurement Officer at Westpac) who has advocated for culturally diverse leader, (Zoe Chernih, Strategic Partnerships Manager, Westpac).
Div Pillay has focussed on disaggregated gender data collection and analysis for the last 10 years with various clients in the public, private and not-for-profit sector. Some consistent findings are that, while the gender pay gap is around 14%, for culturally diverse women, the gender ethnic pay gap is around 33% - 36%. These women are severely underrepresented in executive roles (less than 1.9% in ASX leadership) and their pathways from middle to executive roles are fraught with barriers and biases. Div Pillay, shares that if we don't actively advocate for women from different races and cultures in our workplace, these women will get left behind in the fight for gender equality.
Article continues below advertisement
Join us for our upcoming Masterclass on how to advocate for culturally diverse women in your workplace as we explore this practically through a C-suite leader who has actually done it consistently since 2017.
This session has been designed to introduce you to the lived experience of an advocate and a culturally diverse woman.
We'll leave you with clear next steps to start influencing change now.
This one-hour lunchtime Masterclass, is presented by Monash Business School's Executive Education team and features Div Pillay, Coretta Bessi and Zoe Chernih
12.05pm - Framing of the Discussion, Intro of Panellists
12.10pm - Fireside Conversation (Coretta Bessi, Zoe Chernih moderated by Div Pillay)
In partnership with Mindtribes, Monash Executive Education offers an open program that addresses how cultural and linguistic diversity can impact your progression at work and is facilitated by Div Pillay.