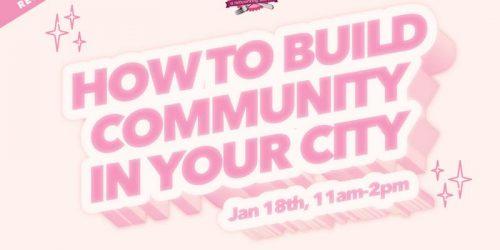 How To Build Community in your City: A Workshop by Ladies Who Brunch ATL
By
Her Agenda Staff
Jan. 17 2020, Published 7:00 p.m. ET
ADDRESS: Smyrna, GA 30080
Get Tickets
Do you want to learn how to build a strong tribe or community for your business? You know people who repost (without you asking), join your waitlist, sell tickets for you (without you asking), and are ready to pay for whatever you're releasing (before you release it)?
Are you ready to learn the short-cut to creating an Insta-worthy experience that attracts big name sponsors, brands, talent, or influencers who are ready to be a part?
More than that, do you struggle with getting your audience to buy in?
If yes, then the Ladies Who Brunch ATL, first Workshop for 2020 is for just you!
In this 3-Hour workshop, they'll teach you exactly what you need to know to build a strong tribe for your brand that not only is attractive to the eye, but also gets people to buy in to what you are selling.
Through hands-on learning and collaborative discussions, you'll learn how to build a stronger tribe or community for your business and how to aesthetically design your in-person experiences that create an urgency for people to share online.
Who's this for? If you're a budding startup, a newbie brand, or wanting to rebrand your company, attendees of all levels will leave with the direction, confidence, and skills to grow their community, social media impressions, and buyer interest.
The small print: Seating is limited to ensure an intimate setting to ensure one-on-one time with each guest. Laptop or tablet is required in order to get the most out of this workshop. Your technology must be able to view PDF files.
Any payment to a Ladies Who Brunch Atlanta soirée is non-refundable and the buyer accepts this agreement upon payment being received. For any questions, concerns or more information please e-mail: Hello@LadiesWhoBrunchAtlanta.com.
The workshop's address is in the PDF attachment in your confirmation e-mail, it is sent immediately after you RSVP.
There is a possibility that you may be filmed or have your photo taken for visual purposes. As an attendee, you agree to these terms. All payments are final and there are no refunds.