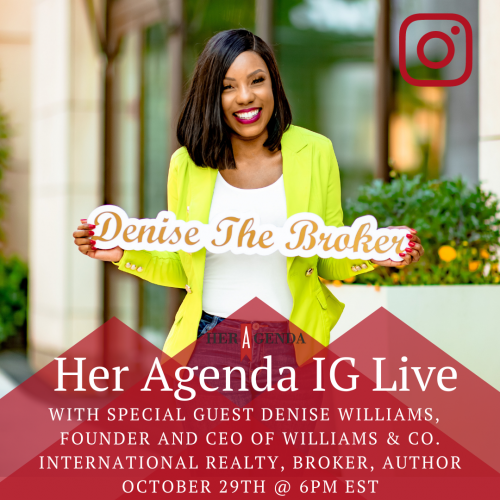 IG Live with Denise Williams: Real Estate Broker, Businesswoman and Author of From Broke to Broker
By
Her Agenda Staff
Oct. 28 2020, Published 8:00 p.m. ET
VENUE: Instagram Live - @HerAgenda
On October 29th, Denise Williams, real estate broker, businesswoman, and author of From Broke to Broker, will join Her Agenda INSIDER Tiffany Patterson in a live conversation focused on managing ambition, entrepreneurship and homeownership.
Denise is one of the youngest African American women in the U.S who owns her own Brokerage— Williams & Co International Realty.
Denise has had her share of success, challenges, and transitions, so we're excited to hear how she's managed each stage of her life as well as any advice she can give to aspiring authors, entrepreneurs and homeowners. Read more about Denise's background here.