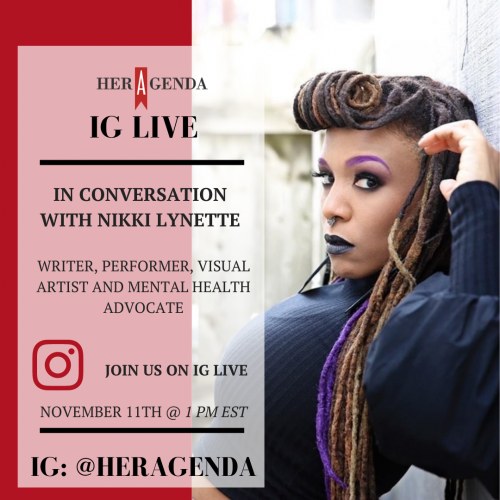 IG Live with Nikki Lynette: Writer, Performer, Visual Artist and Mental Health Advocate
By
Her Agenda Staff
Nov. 10 2020, Published 7:00 p.m. ET
VENUE: Instagram Live - @HerAgenda
Get Tickets
On November 11th, Nikki Lynette, writer, performer, visual artist and mental health advocate, will join Her Agenda INSIDER Lauren Clark in a live conversation focused on fusing creativity and mental health.
Nikki has opened for musical acts like Lionbabe and Leikei47 and been featured in Billboard and has spoken on panels at SXSW. More recently, Nikki revealed her struggle with depression and is currently in production for her documentary "Happy Songs about Happy Things."
A Chicago native, she fuses mental health activism into her performances and
has created a lane for her music that is uniquely her own. Her self-produced tunes have been featured in popular shows on Netflix, Hulu, Showtime, Fox and MTV, and have garnered national attention through digital and print features for publications like XXL, Bust and Vibe.