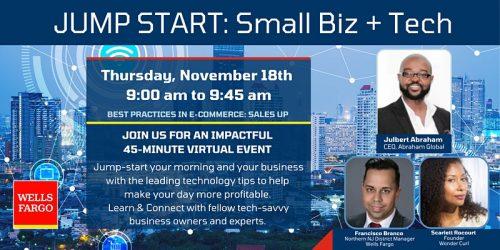 Jump Start: Small Biz + Tech
By
Her Agenda Staff
Nov. 1 2021, Published 8:00 p.m. ET
Get Tickets
Jumpstart your business profitability with this new series -- JUMP START: Small Biz + Tech.
A Thursday morning virtual event that offers 45 minutes of transformational information about the latest small business technology. Each tech tip is affordable, accessible, and could pay dividends in profits, reach, and operational success for years to come.
November 18th, take a deep dive into the world of eCommerce with esteemed host, Julbert Abraham, CEO of Abraham Global, and special guest, Scarlett Rocourt, the award-winning Owner of Wonder Curl.
Wonder Curl is a highly successful online and retail hair care company with products for all hair types. Today, Wonder Curl sells products throughout the U.S., Caribbean, and Europe. In 2020, Scarlett founded the Healthy Hair Summit to educate audiences about healthy natural hair and further build her franchise.
Scarlett owes part of her global success to her proficiency in eCommerce technology. At this event, she will share more about her e-commerce expertise, best practices and give us a few next-level tips to help jumpstart your profits today.
Register today and plan to invest 45 minutes in your business that could transform your long-term success. Bring your coffee or tea along too!