Latinx Summit NYC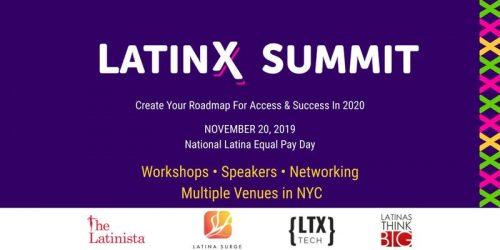 VENUE: Various locations throughout NYC
Get Tickets
National Latina Equal Pay Day is the day when Latina pay catches up to that of white, non-Hispanic men from the previous year.
This year it is being observed on November 20, 2019 and we are giving you access to 10+ immersive workshops to change this and help craft your roadmap for professional and entrepreneurial success in 2020!
We anticipate more than 500 participants to come together for an afternoon of empowerment, education and networking at our inaugural Latinx Summit - an effort to move beyond typical panel discussions by offering action plans at several venues throughout NYC hosted by leading companies and agencies.
Brought to you by the leadership team: Angelica Litwin-Perez, Elisa Charters, Yai Vargas, and Carolina Castro. Huge thank you our amazing partners and sponsors featured on our website: https://latinx2020nyc.com
Our Latinx Summit features:
Headquartered venues throughout NYC with access to employment pipelines
10+ workshops to support your personal, professional and entrepreneurial goals
Executive/Expert presenters from varied industries, start-ups and government entities
Opportunities to connect with our powerful Latinx community in NYC, network with recruiters, meet potential mentors and mentees, and build community
Networking Reception at Hudson Yards
Venue, workshop topics, and speakers:
(Workshop timeframes: Part I: 1:00-3:00 p.m. and Part II: 3:15-5:00 p.m.)
LinkedIn HQ (350 5th Ave.)
Article continues below advertisement
Part I: LinkedIn: "Rock Your Brand" with Carla Martinez-Cuevas (Digital Marketing at LinkedIn) and "Creating Storytelling Magic" with Yai Vargas (Founder and CEO of The Latinista)
Part II: "Confident Public Speaking" Minue Yoshida (Author and Public Speaking Coach)
Barclays HQ (745 7th Ave.)
Part I: "Sustainability, Diversity & Inclusion & Impacts to Our Communities" with Elisa Charters (Principal at EAC Business International and President/Co-founder of Latina Surge)
Part II: "Building Connectivity in Supplier Diversity for 2020" with Harvey Butler (Global Head of Supplier Diversity Barclays), Val Aloe (Principal/ Founder of AlphaQuest Consulting, and Program Director at the Statewide Hispanic Chamber of Commerce of NJ), and Eduardo Bialostozky (Procurement Manager at PepsiCo + Co-Founder & COO at Productos NAEN).
AARP-NY (750 3rd Ave.)
Article continues below advertisement
Parts I and II: "Living Longer, Living Smarter " with Maggie Castro (Associate State Director, Hispanic Outreach at AARP-NY). We are never too young or too mature to plan for our futures! Aging and planning together; bring a parent, abuela, or any family member at no extra cost. Upon purchasing your ticket, please email us with your guest information. Admin@latinx2020nyc.com.
RISE FinTech (43 W 23rd St)
Part I: "Design Thinking to Business Development" - a customer-centered process that both startups and large corporations use to prototype and develop their products and branding. With Hernan Squizziato (Executive Director at Globant).
Part II: "2020 Latinx Venture Capital Lead Plan" offers an inside look on what you need to know about available asset classes and emerging trends, strategies on partnerships, and how to close deals with investors, social impact drivers, angel investors, and others in the investment community. With Cheryl Campos (Principal at Republic) and Carlos Miguel Gutierrez (Ex. Director at Ignite Institution and Managing Director at Golden Seeds).
Barclays HQ (745 7th Ave.) - by invitation only
Article continues below advertisement
Parts I & II - C-suite Development - "What is your value proposition?" with Bill Ehrhardt (CEO Group Chair of Vistage Worldwide)
These are just a few of the amazing workshops and partners featured at #LatinxSummitNYC!
Afterwards, you are welcomed to join us at the Networking Reception from 5:30-7:30 p.m. at Cedric's at the Shed in Hudson Yards (545 W 30th St.). Cash bar. Please note that you must be a registered attendee to join.
More details on the workshops, speakers, and our sponsors can be found on our website: https://latinx2020nyc.com
If you are interested in volunteering, please sign-up here.
To apply for a scholarship, please sign-up here.
Disclosure: Please be advised that basic attendee information (name, address, email) will be shared with our venue sponsors for security purposes and access to buildings for the workshops. Any workshop materials and follow-up will also be sent electronically to attendees and/or posted to latinx2020nyc.com.