Leadership Conference: Collaboration is Key (Virtual)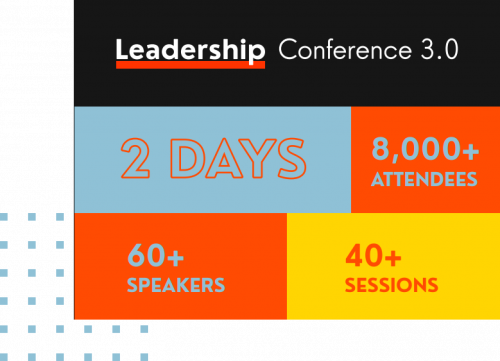 Get Tickets
As we emerge from the pandemic and elevate ourselves in a hybrid world, collaboration and community are becoming more prominent in leading business, discussions and decisions. After a year of upheaval, we've seen a brighter spotlight on the black community and professionals like never before.
This is the time, within the decade of proactive change, to refocus and realign our community across all industries to consciously curate and collaborate on worldwide change.
Join this a 2-day virtual journey delving into what the world could truly be like with collaboration at the forefront - this is THE chance to step away from the day-to-day and immerse yourself in the latest expertise to reimagine the world around us. You'll leave with jam-packed insight and personal tactics to elevate your career while uplifting those around you.
Over 40 speakers including:
Article continues below advertisement
Will.I.AM, Creative Innovator & Tech Entrepreneur
Yemi Lalude, Partner, Hear of Africa, TPG
Jason Njoku, Founder, IROKO TV
Suli Breaks, Poet
Simeon Quarrie, Founder, VIVIDA
Abdul Abdullah, Founder, Afrochella
Bernadette Thompson, Deputy Director of Ministry, Housing & Local Communities
Mehret Habteab, Vice President, Digital Products, Visa
Jean-Marc Laouchez, President, Korn Ferry Institute
Nathan Ashley, Senior Public Policy Manager, UK & Ireland, Voi Technology
Collaboration: The Local and Global Field
You'll hear leading local and international insight on designing, implementing and engaging with impactful collaborative projects across business, community and society.
Future of Work: Tech Edition
Gain unparalleled tech insight to understand how you can positively elevate your technical journey for your business and your people.
Future of Work: People Edition
Discover how the need for transformation has accelerated the need to focus on your culture, your workplace, your people.
Learn how to advance your business through the power of collaboration, how you can go outside of your comfort zone & industry to advance your impact while gaining strategies to reposition your business
Learn the ins and outs of the definitive playbook for current and aspiring leaders looking to curate true ripples of change.
Find out more info on the official conference website here.