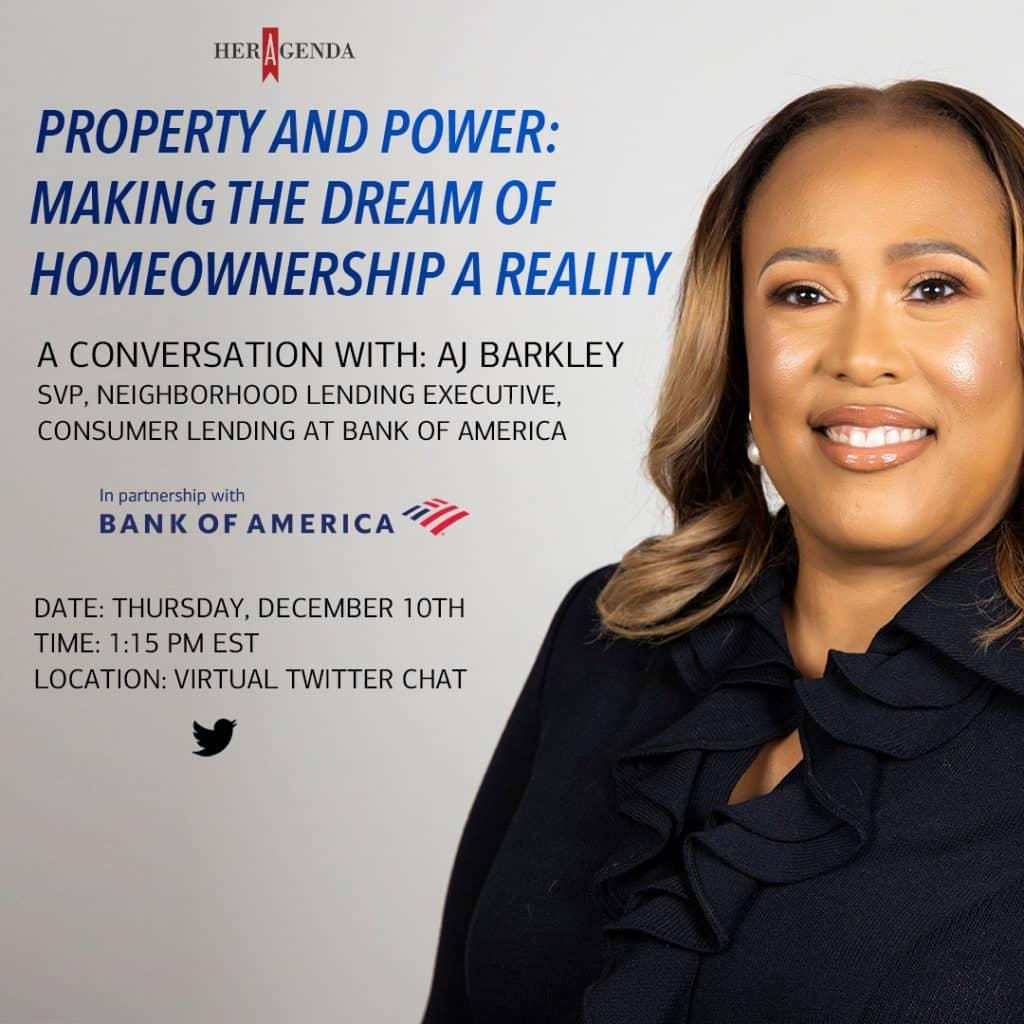 Live Twitter Chat: Making The Dream Of Homeownership A Reality
By
Her Agenda Staff
Dec. 9 2020, Published 7:00 p.m. ET
ADDRESS: https://twitter.com/heragenda
Get Tickets
Is homeownership on your agenda for 2021? Get your questions answered live!
One thing 2020 has shown us is how important home is. If you aspire to own your own home, despite all that has happened this year, it is still possible.
Everyone has their own homeownership timeline so it's never too early or too late to begin taking the first steps and prepare as much as possible for achieving your dream of becoming a homeowner.
We're partnering with Bank of America to provide insights as well as invite you to learn about an exciting new program that can help you on this journey. Bank of America's Community Homeownership Commitment provides a variety of solutions to make homeownership affordable and sustainable. The commitment provides eligible homebuyers up to $17,500 in assistance for the down payment and closing costs – no repayment necessary.
What we've learned is unfortunately some qualified buyers unknowingly self-select out of homeownership, assuming they can't afford a monthly mortgage payment or the upfront costs. This commitment from Bank of America directly addresses this.
Article continues below advertisement
Another issue we find is simply not knowing where to start. This is where AJ Barkley comes in. She's the SVP Neighborhood Lending Executive for Bank of America and she'll be with us live answering questions including:
How have the events of 2020 impacted the homebuying process?
What is needed to prepare for homeownership?
If you're in a position where you are ready to buy what is the first step our readers should take?
What goes into evaluating your financial readiness?
Article continues below advertisement
Don't miss this! You can RSVP here. The form will also allow you to submit your home ownership questions. We want to be sure we address all your concerns.
We look forward to seeing you live on Twitter.
AJ Barkley
SVP, Neighborhood Lending Executive Consumer Lending
AJ BARKLEY is the Neighborhood Lending Executive for Bank of America, responsible for identifying opportunities to drive successful homeownership among low-to moderate-income borrowers, underserved communities, and multicultural borrowers across the economic spectrum. In her role is, she is accountable for transforming the company's Community Reinvestment Act (CRA) commitment for more mortgages, small business, vehicle and small business lending into a strategy designed to increase demand, market share and consumer education. She is also responsible for aligning strategies to deepen relationships with multicultural, first-time home buyers and low- to moderate-income consumers.