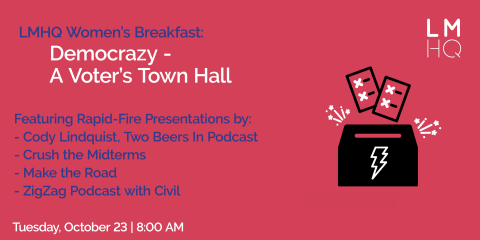 LMHQ Women's Breakfast: Democrazy – A Voter's Town Hall: NYC
By
Her Agenda Staff
Oct. 22 2018, Published 8:00 p.m. ET
ADDRESS: 150 Broadway, New York, NY 10038, USA
Get Tickets
Join us at LMHQ on October 23rd for a special installment of the LMHQ Women's Breakfast all about democracy, right in time for the primary elections! We'll get to learn more about the important issues on the table this election cycle and for years to come at this rapid-fire democratic town hall.
Hear from Jen Poyant, Producer of ZigZag Podcast with Manoush Zomorodi, in conversation with Lillian Ruiz, COO and Co-Founder of Civil, about the decentralized marketplace for sustainable journalism and how they use cryptocurrency (CVL tokens) to reimagine the newsroom.
We'll also hear presentations from Marisa Kabas, Editorial Director at Crush The Midterms; Natalia Aristizabal, Co-Organizing Director at Make The Road, and a comedy performance by Cody Lindquist, co-host of Two Beers In: A Tipsy Political Roundtable podcast.
Entrance to this free event is on a first-come, first-served basis, so please arrive on time to grab a seat. Doors open at 8:00 AM for bagels and coffee and an opportunity for networking. We can't wait to see you there!