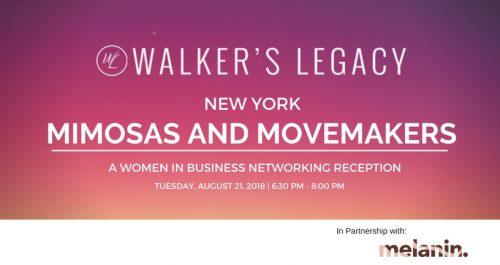 New York | Mimosas & Movemakers Networking Reception
By
Her Agenda Staff
Aug. 20 2018, Published 8:00 p.m. ET
ADDRESS: 295 Lafayette St, New York, NY 10012, USA
Get Tickets
Join Walker's Legacy, the largest digital platform for professional and enterprising multicultural women, for a Mimosas & Movemakers New York Networking Reception.
As an attendee, you will be joined by leading social entrepreneurs, business leaders, and industry experts for important conversations on the impact women have had on our economy and community.
Angelina Darrisaw, Founder of C-Suite Coach
Jamira Burley, Youth Activist and Head of Youth Engagement & Skills, Global Business Coalition for Education
Duanecia Evans, Senior Managing Director, National Black Community Alliances at Teach For America
Roxana McKinney, Financial Planner & Business Coach
You will also have the opportunity to learn more about Walker's Legacy and how you can be involved in supporting the work we do to support enterprising multicultural women in business.