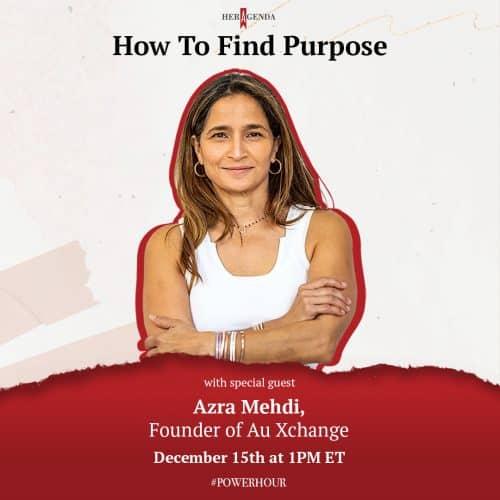 Power Hour With Azra Mehdi: How To Find Purpose
By
Her Agenda Staff
Dec. 14 2020, Published 7:00 p.m. ET
VENUE: Slack (Her Agenda INSIDERS!) - subscribe to join the chat
Get Tickets
As we age there comes a time when we fear it is "too late" to start something new. Azra Mehdi grappled with this struggle. She has led a long career as a lawyer and at the age of 51, she decided it was time to pursue her lifelong passion for jewelry and start her own fine gold jewelry collection. Au Xchange was born just a year ago, a jewelry line for the modern woman who cherishes simplicity and timelessness.
Born and raised in Mumbai and Dubai, Azra moved to the United States as a teenager. Educated in Mumbai, Chicago and Vienna, Azra spent several years as an attorney representing consumers, shareholders and small business interests before launching Au Xchange. Au Xchange is a mission-oriented project of love intended to realize her deep-rooted passion for jewelry with her life mission of contributing to the advancement of women through girls' education. This year Au Xchange's partner is Campaign for Female Education, which helps girls in sub-Saharan Africa go to school. A portion of every single sale is donated.
On December 15th we're hosting Azra for a Power Hour chat to discuss becoming an entrepreneur later in life, launching a business right before the pandemic, finding purpose, and her passion to support girls' education!
Want to join us? Become a Her Agenda INSIDER today!