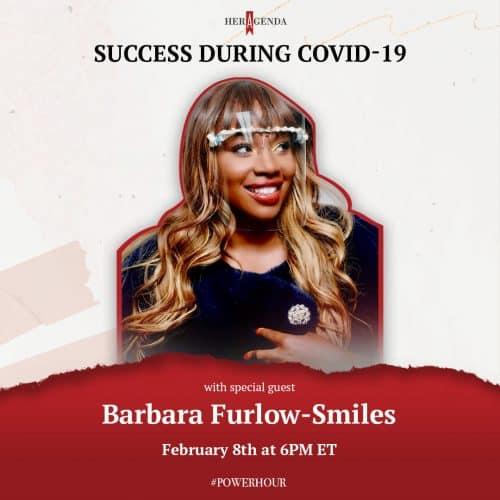 Power Hour With Barbara Furlow-Smiles: Success During COVID-19
By
Her Agenda Staff
Feb. 7 2021, Published 7:00 p.m. ET
VENUE: Slack (Her Agenda INSIDERS!) - subscribe to join the chat
Get Tickets
Barbara Furlow-Smiles has an extensive list of accomplishments. While her current role is Lead Strategist, Global Head of Employee Resource Groups & Diversity Engagement at Facebook, she has an extensive and strategic background in Diversity and Employee Resource Group management with over 10+ years of experience with former roles at MTV Networks in New York and Cox Communications in Atlanta.
Barbara has also seen success as the Founder of B.T. Consulting, LLC and Co-Founder of a non-profit, Global Smiles Health, focused on sustainable health, providing people with the basic needs of living around the globe, one community and SMILE at a time.
And that's before COVID-19.
Barbara is joining us on Monday, February 8th to talk about her background as well as her new company, Smiles ShieldTM. Smiles ShieldTM is a family-owned and operated company that she started with her husband during the pandemic. Celebrities like Roland Martin, Kandi Buruss, Cynthia Bailey, Porsha Williams, Zena (Beyoncé's Wardrobe Stylist), Chole & Halle, and more have worn their Smiles Shield.
She has a bachelor's degree from Spelman College, a master's degree in Public Administration from Baruch College and is studying to obtain her Executive MBA at UCLA. She studied abroad at The University of Cape Town, South Africa during her Junior year at Spelman College and volunteered abroad in Costa Rica during her Senior year at Spelman College. During her study abroad experience in South Africa, Barbara started an international magazine called, Afro-lution, aimed at creating a positive narrative of the African Diaspora and was the first student to be sold in Spelman's & Morehouse's bookstore.