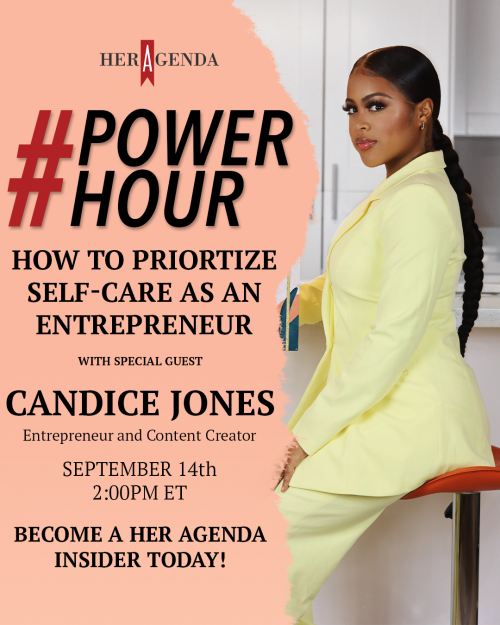 Power Hour With Candice Jones: How To Prioritize Self-Care As An Entrepreneur
By
Her Agenda Staff
Sep. 13 2021, Published 8:00 p.m. ET
VENUE: Her Agenda INSIDERS Slack
Get Tickets
Being an entrepreneur comes with a different set of challenges. Relying on yourself to make it happen is the ultimate challenge. While many achieve access, they tend to forget to take care of themselves along the journey. On September 14th, Candice will join the women of the Her Agenda INSIDER community, to discuss how to prioritize self-care as an entrepreneur.
Candice Jones, entrepreneur and content creator, has garnered attention with her expertise in all pillars of self: self-love, self-care and self-confidence. Throughout her adolescent years, her parents instilled in her the importance of hard work and determination. These values led her to attend The University of Central Florida. She graduated with a Bachelors in Biomedical Sciences in hopes of becoming a gynecologist to make her family proud. Solitude and introspection helped her come to the realization that the dreams and values she carried did not align with her life's purpose. Jones was inspired by this epiphany and began doing the inner workings to build the foundation of her legacy without outside influences.
Jones' resilience and determination helped her redefine her identity. This journey to self-
discovery birthed her community-driven lifestyle platform, Everything She Is Co. This digital safe haven she's created is the manifestation of her overcoming shame, guilt and uncertainty. Jones is now tackling entrepreneurship with the tools she's providing with her lifestyle brand in hopes to help young women and girls embrace their journey into womanhood. Jones' transparency inspires young women to unlearn concepts that don't align with their beliefs, the importance of forgiveness and gratitude to break the barriers that keep them from being their authentic self.