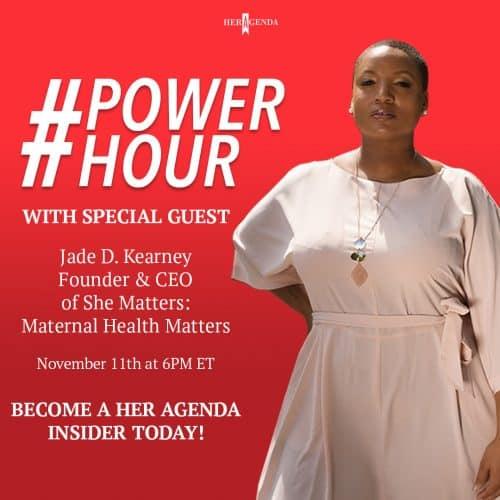 Power Hour With Jade Kearney: Maternal Health Matters
By
Her Agenda Staff
Nov. 10 2020, Published 7:00 p.m. ET
VENUE: Slack (Her Agenda INSIDERS!) - subscribe to join the chat
Get Tickets
Jade Kearney is a Mental Health Expert, Founder & CEO of She Matters, and a mother, with a professional background in Education and Talent Development.
Jade's mental wellness journey began soon after giving birth to her daughter. Jade experienced postpartum depression and anxiety, and had difficulty finding a community and culturally competent resources to turn to. The birth of her daughter made her realize the neglect black mothers face when it comes to their mental well-being.
Jade's drive to take charge of her own mental health inadvertently led to the creation of the She Matters platform - an online/offline safe space for Black women to relate, connect, and inform on all things mental health.
Jade will join Her Agenda INSIDERS on November 11th to talk about the issues surrounding maternal health for Black women and how the impacts of maternal health challenges relate to postpartum mental health.