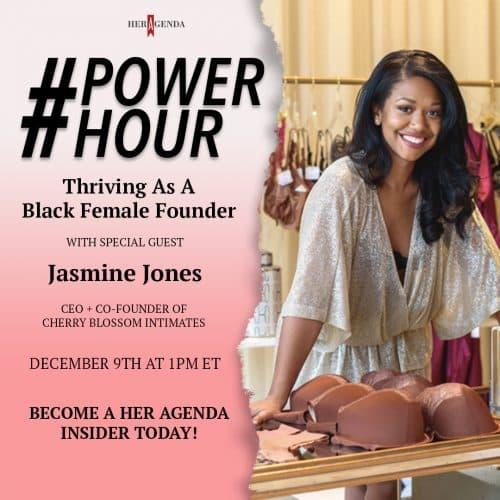 Power Hour With Jasmine Jones: Thriving As A Black Female Founder
By
Her Agenda Staff
Dec. 8 2020, Published 7:00 p.m. ET
VENUE: Slack (Her Agenda INSIDERS!) - subscribe to join the chat
Get Tickets
Jasmine Jones is the founder and CEO of Cherry Blossom Intimates, a first of its kind breast health facility and intimates boutique. A Forbes 30 Under 30 Listmaker, and former Miss District of Columbia USA, Jasmine believes in the power of Intimates, innovation, and inclusion. We're excited to have Jasmine join the Her Agenda INSIDERS for Power Hour on December 9th to share her journey as a founder and give advice to those interested in entrepreneurship!
Jasmine is also passionate about helping people achieve their potential. Aside from being Founder and CEO of Cherry Blossom Intimates, and Vice President of the Young Professional Advisory Council of Breast Care for Washington, Jasmine is the Founder and President of The Global Literacy Initiative, an organization that seeks to improve the lives of children through the eradication of illiteracy and the facilitation of a modern love for reading in order for every child to have quality educational tools in their homes. Through her work with The Global Literacy Initiative, Jasmine was appointed a Goodwill Ambassador to Sierra Leone and afforded the opportunity to work with Malian dignitaries.
Jasmine is recognized as a results-focused team leader, with excellent public speaking and communication skills. She has had the opportunity to speak to audiences both in the United States and Dubai, UAE, on topics on entrepreneurship and modern womanhood.
Jasmine's accomplishments include the titles of Miss District of Columbia 2016 and Miss Black District of Columbia USA. She is also a Forbes 30 Under 30 listmaker. She received a Bachelor's degree in Business Administration in Entrepreneurship from Trinity Washington University in Washington D.C. and speaks fluent French.