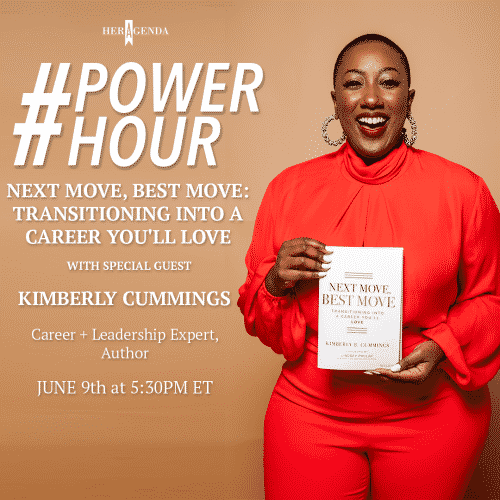 #PowerHour With Kimberly Cummings: Next Move, Best Move: Transitioning Into a Career You'll Love
By
Her Agenda Staff
Jun. 8 2021, Published 8:00 p.m. ET
Get Tickets
Kimberly B. Cummings, career + leadership expert, has embarked on a mission to expertly lead and navigate readers to and through their desired career field, earn the salary they deserve (plus more), and become industry leaders who not only reap satisfaction in the workplace but regain control over their professional lives.
On June 9th, she'll join Her Agenda to share her book Next Move, Best Move: Transitioning into a Career You'll Love, on the same day it is released to the public!
Kimberly's book is the highly anticipated, career planning and advancement book that you need! With the detailed guidance within Next Move, Best Move: Transitioning into a Career You'll Love, Cummings paves a clear path to create actionable strategies through a proven-effective framework and conscious processes, enabling professionals to do more, be more, and achieve more.
Through Cummings' professional experiences as a career development adviser in the some of the nation's top universities and a diversity + inclusion professional in a Fortune 100 company, her highly celebrated book works in tandem with her experiences and sought-after leadership development company, Manifest Yourself, which provides fail-proof solutions to companies looking to engage and retain their workforce.
Kimberly has been featured in Forbes, MONEY Magazine, The Wall Street Journal, CNBC, Fox 5, among others, and is a graduate of Long Island University, earning a Bachelor of Science in Business Administration and Master of Science in Counseling.