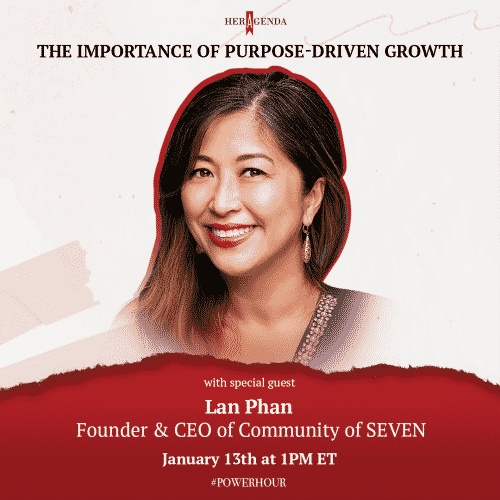 Power Hour With Lan Phan: The Importance Of Purpose-Driven Growth
By
Her Agenda Staff
Jan. 12 2021, Published 7:00 p.m. ET
VENUE: Slack (Her Agenda INSIDERS!) - subscribe to join the chat
Get Tickets
Lan Phan, Founder & CEO of Community of SEVEN, will be joining us as our first Power Hour of the year. 2020 was hard for everyone including Lan. Lan was laid off from her dream job at Fortune Magazine in April of 2020 alongside her team. But a setback like this didn't stop Lan.
Exactly seven days after being laid off, Lan started brainstorming the idea for Community of SEVEN, an intersectional, purpose-driven executive leadership development program. The night she came up with this idea, she launched the website. A week later, she started social media accounts for Community of SEVEN and now, seven months later, she has amassed some 40,000 followers on social media. Since April, she has met with hundreds of executives and founders, and tested her concept with the help of Dentsui's Female Foundry program.
On January 13th, Lan will join us to chat about her quick foray into entrepreneurship as a result of being laid off, her vision for Community of SEVEN, and the importance of purpose-driven growth.
Article continues below advertisement
Lan Phan is an award-winning marketer and strategist with over twenty years of marketing, advertising, membership, and leadership training experience. Lan is one of the leading global experts on membership and community development, speaking at Fortune 500 companies and renowned venues such as the United Nations, SXSW and consulting with CEOs and C-suite executives.
Lan is the founder and CEO of community of SEVEN, an invite-only membership community that brings leading executives, thought-leaders, and changemakers together to tackle and solve business and societal problems. Lan has a track history of building startups inside legacy brands; Before launching community of SEVEN, Lan was recruited by Alan Murray, CEO of Fortune Magazine, to join the executive team and develop and lead Fortune Connect, a startup within the storied brand; Lan also helped build CMO Masters Circle and Global CMO Growth Council, a startup within the Association of National Advertisers that includes over 350 CMOs from around the world mobilized to accelerate economic growth and advance societal good.
Article continues below advertisement
Lan has played a significant role in the gender equality movement, having served as the General Manager of SeeHer, the gender equality initiative. SeeHer has been instrumental in creating a new advertising discipline around gender equality, equipping the CMOs of the world's most prominent brands with a framework to eliminate unconscious bias in their messaging and improve their ROI along the way.
Lan is a serial entrepreneur, having built several successful businesses. Most notable, she co-founded the Hype! Agency considered one of the fastest-growing boutique talent and marketing agencies in the United States, specializing in branded entertainment and lifestyle clients such as Coachella Music Festival, Bonaroo, National Basketball Association, Activision, Red Bull, Comedy Central, to name a few.
Lan Phan earned a BA at Stanford University and a master's degree at Harvard Graduate School of Education. She graduated from Stanford University with honors and is the recipient of the prestigious J.E. Wallace Sterling Award, awarded to one graduating Stanford student each year, whose undergraduate leadership and volunteer activities have made the largest impact on the Stanford community.