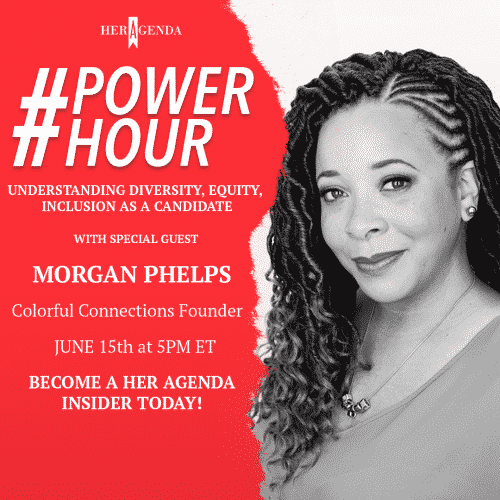 Power Hour With Morgan Phelps, Colorful Connections Founder: Understanding Diversity, Equity, Inclusion As A Candidate
By
Her Agenda Staff
Jun. 14 2021, Published 8:00 p.m. ET
Get Tickets
As diversity training and hiring practices are becoming increasingly sought after in the workforce, Morgan Phelps, founder and CEO of Colorful Connections will join us to talk about understanding diversity, equity, and inclusion as a candidate.
Colorful Connections is a social enterprise highly adept at transforming organizations into better versions of themselves by helping employers build, retain and grow inclusive teams that represent the communities they serve. Morgan also teaches Corporate Social Responsibility and Diversity in Organizations at Marquette University.
Colorful Connections also helps underestimated professionals secure promising careers, doing what they love with organizations committed to diversity and inclusion, so we're excited to have Morgan share tips our INSIDERS can use to inform their job search and land at companies they align with.
Beyond serving as a change agent for diversity and inclusion, Morgan has more than 15 years of experience working as a PR and Communications Specialist. A Chicago native, Morgan graduated with a MSJ from the Medill School of Journalism at Northwestern University, and a B.S. in African-American Studies, Theater and Politics from Oberlin College in Ohio. She is a member of Alpha Kappa Alpha Sorority, Inc.