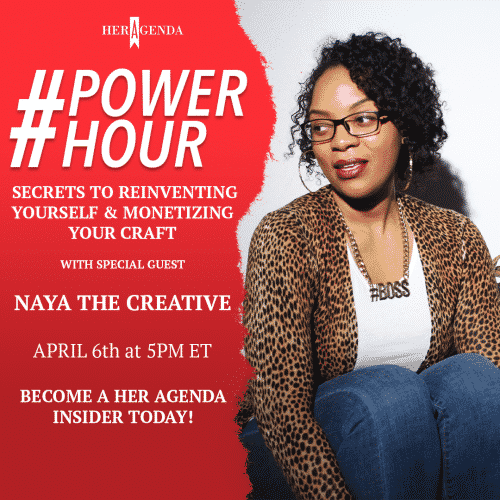 Power Hour With Naya The Creative: Secrets To Reinventing Yourself & Monetizing Your Craft
By
Her Agenda Staff
Apr. 5 2021, Published 8:00 p.m. ET
Get Tickets
Reinventing yourself and monetizing your craft are just a couple of the ways you can be creative with how you think about your career. Our Power Hour guest this month has quite a bit of experience in this area.
Naya "The Creative" is a Brand Therapist and Founder of House of Brand Therapy. House of Brand Therapy is a full-service brand development agency and digital education space designed for women who want to build high-quality, luxury, & one-of-a-kind brands. Naya is an experienced digital consultant with a background that includes advertising, copywriting, digital design, & web development.
A thought leader in the branding space, Naya created House of Brand Therapy to help everyone from 9-5'ers, to freelancers, to founders, find their authentic voice in order to build stronger and more profitable brands & businesses. In this work as a Brand Therapist, Naya teaches creatives with no business experience how to reinvent themselves and monetize their craft.
On April 6th, Naya will join the Her Agenda INSIDERS to talk about her professional journey and of course, share a few secrets on how to reinvent yourself and monetize your craft!
Naya is a graduate of Howard University and the University of Baltimore, graduating with an undergraduate degree in Media Production, and graduate degree in Publications Design, respectively. Learn more at: www.nayathecreative.com