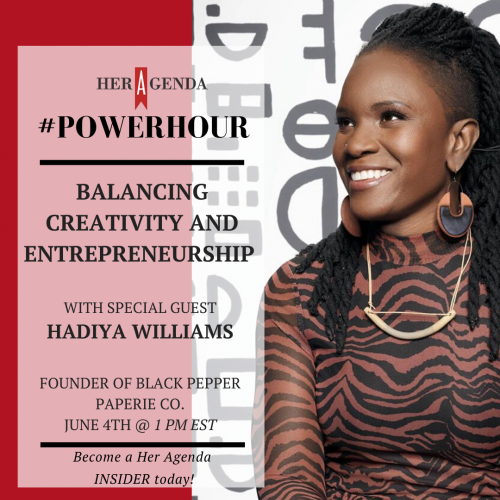 #PowerHour: Balancing Creativity And Entrepreneurship With Hadiya Williams
By
Her Agenda Staff
Jun. 3 2020, Published 8:00 p.m. ET
VENUE: Slack (Her Agenda INSIDERS!) - subscribe to join the chat
Get Tickets
Balancing creativity and entrepreneurship can be challenging but for creative entrepreneurs it isn't an option. For our next #PowerHour, we'll talk to one entrepreneur to see how she does it.
Hadiya Williams is a designer/artist based in Washington, DC. Her work has recently been featured on digital platforms and in print publications including, OkayAfrica, The Cut, Washingtonian Mag, AphroChic, and Travel + Leisure. With over 15 years of experience in graphic design, Hadiya founded Black Pepper Paperie Co., in 2017. There she uses her background in design to create globally-inspired, one-of-a-kind, handmade pieces that include wearable ceramic objects, home decor, and accessories.
We're so excited to learn more about Hadiya and how she balances everything in her business! Want to join the conversation? Join the Her Agenda INSIDERS today!