#PowerHour Chat with Brittany Giles & Channing Beumer: Building A Business With Your Bestie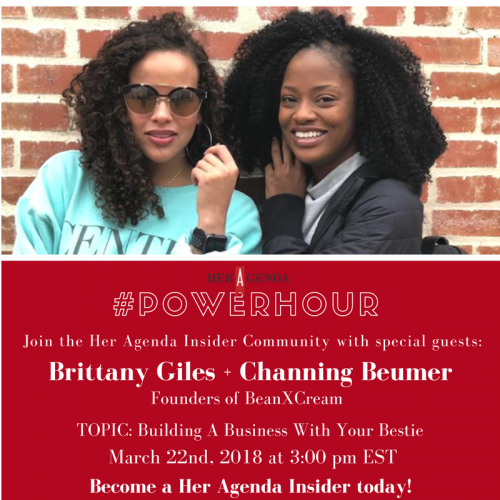 Have you and your best friend ever been sitting around (perhaps over a glass of wine or two) and come up with a brilliant idea for a business? Well, what happens when you both get really serious about it - so much so that you all come up with a name, buy the website domain and begin marketing your product or service you know, like real business women?
You'll probably find that the dynamic of your relationship will change (in a good way, of course!) as well as how you both hold each other accountable for getting stuff done. On Thursday, March 22nd, join the Her Agenda Insider community for the next #PowerHour chat were Brittany Giles and Channing Beumer, best friends for over a decade and the creators of BeanxCream as they discuss what inspired them to develop a platform that focuses on friendship, faith and food.
To join the conversation, you must be a Her Agenda Insider - join our community by clicking here.