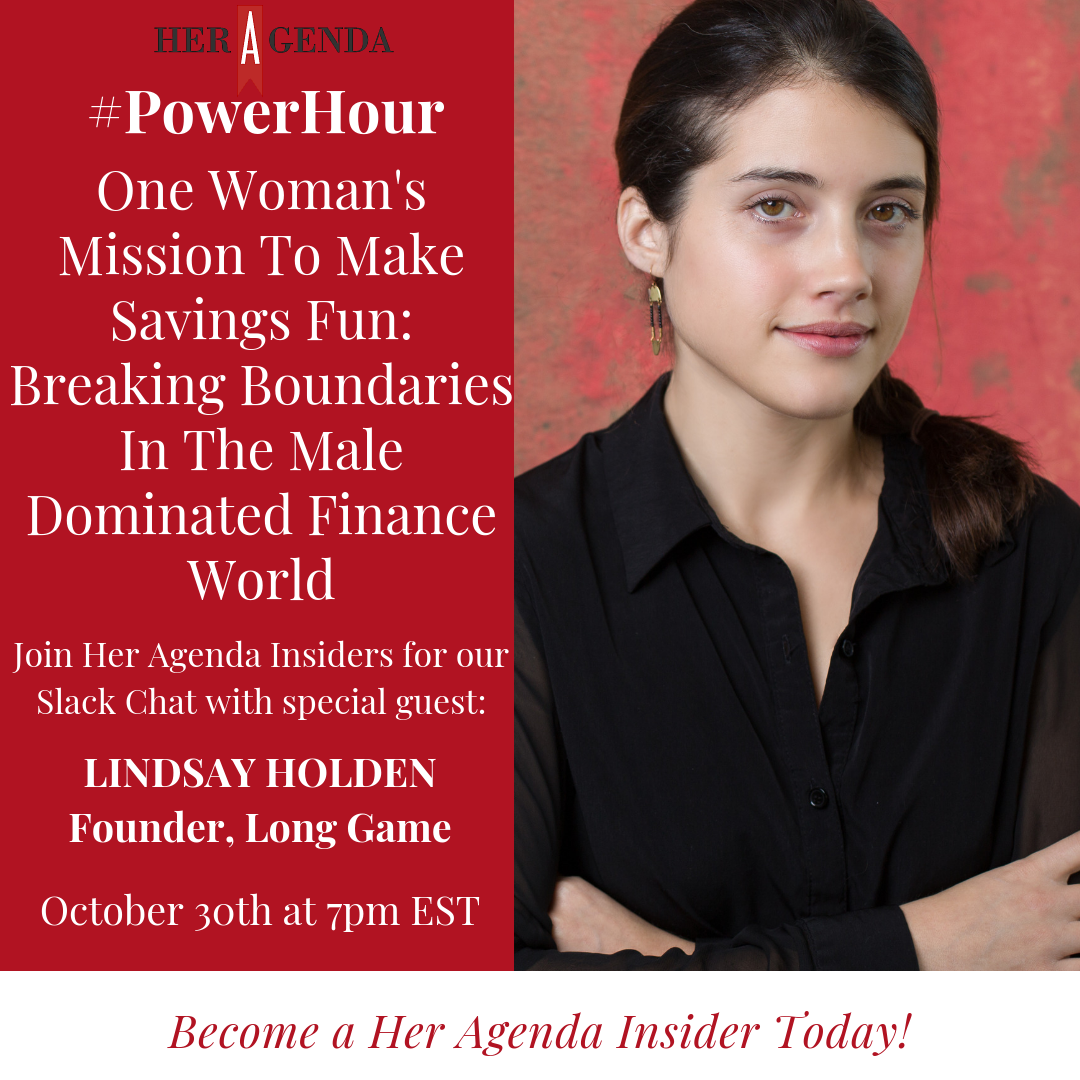 #PowerHour Chat with Lindsay Holden: One Woman's Mission to Make Savings Fun - Breaking Boundaries in the Male-Dominated Finance World
By
Her Agenda Staff
Oct. 29 2018, Published 8:00 p.m. ET
VENUE: Slack (Her Agenda Insiders!) - subscribe to join the chat
Get Tickets
There's that immediate feeling when you walk into a room realize that once again, you're the only female in the room. Maneuvering these male-dominated spaces is essential to success, especially in fields where women are scarce. On Lindsay Holden's journey to create a savings app that creates an adventure to meet your finance goals, she has worked through the crypto, finance, and tech worlds to do so. During this one-hour chat available exclusively to Her Agenda Insiders, Lindsay will talk about her experiences as a woman trailblazing in a primarily male space - if you've ever wanted to know more about how to excel in a male-dominated industry, this #PowerHour is for you!
Lindsay Holden is the CEO of Long Game, a gamified personal finance app for Millennials that encourages saving with rewards and cash prizes. Before starting Long Game, Lindsay co-founded the Applicant Auction, the primary auction for Top Level Domain names which held over $1B in auctions before being acquired. Before that she helped to launch Formation 8, a venture capital firm in Silicon Valley. She holds a B.S. in Chemical Engineering and an MBA from the University of Colorado, Boulder.
Join the Her Agenda Insiders on October 30th at 7PM EST on Slack for Lindsay Holden's #PowerHour chat on "One Woman's Mission To Make Savings Fun: Breaking Boundaries In The Male Dominated Finance World!"