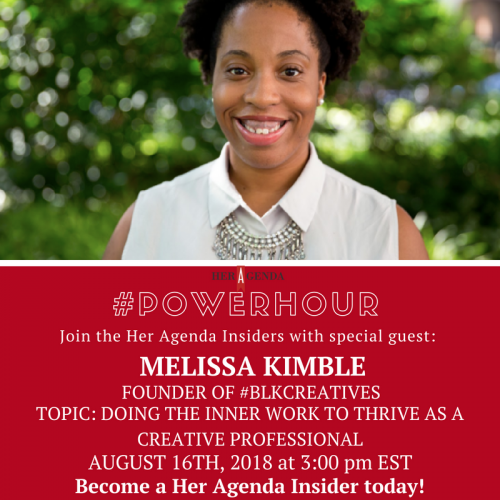 #PowerHour Chat With Melissa Kimble: Doing The Inner Work To Thrive As A Creative Professional
By
Her Agenda Staff
Aug. 15 2018, Published 8:00 p.m. ET
VENUE: Slack (Her Agenda Insiders!) - subscribe to join the chat
Get Tickets
As a creative professional, do you ever look to your passions to fuel your career with intention? At our next #PowerHour, join Melissa Kimble, social media strategist and founder of #blkcreatives to talk about the inner work that goes into truly thriving as a creative professional.
As founder for the premier Twitter chat for Black professionals, she works with intention. She builds the brand into a primary resource at the intersection of culture, careers, and community for Black Creatives. Past partnerships include Netflix's Strong Black Lead, Issa Rae Productions, Complex Hustle, Create & Cultivate, and AfroPunk.
In addition, her belief in using social media for good through education, community, and empowerment brought her to work with countless major brands, mission-based startups, and entrepreneurs to share their brand stories. Her work also includes Dream Village co-working space, Mimi Valdés' Kaleido Beauty, EBONY Magazine, Burrell Communications, the NFL, among many others.
Join us on Thursday, August 16th at 3pm EST on Slack.
Don't forget! To join the conversation, you must be a Her Agenda Insider. Click here to join the community today!