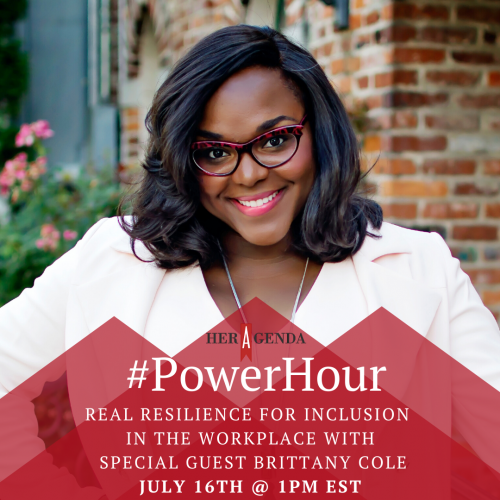 #PowerHour: Real Resilience for Inclusion in the Workplace With Brittany Cole
By
Her Agenda Staff
Jul. 15 2020, Published 8:00 p.m. ET
VENUE: Slack (Her Agenda Insiders!) - subscribe to join the chat
Get Tickets
Diversity and Inclusion are hot topics right now. As the corporate world looks to address issues across race and gender, employees are feeling more empowered to speak up and seek change. This is not easy for many but very necessary. For our next Power Hour, we're hosting Brittany Cole of Career Thrivers to discuss "Real Resilience For Inclusion In The Workplace."
Brittany will discuss how to navigate employment both personally and professionally while pursuing diversity and inclusion in the workplace.
Meet Our Special Guest
Brittany Cole lives by this motto as a TEDx speaker, coach and consultant that is passionate about equipping leaders to cultivate an inclusive culture where diverse talent believe they belong.
As a former sales and marketing leader at Pfizer, Brittany has experienced how intentional leadership development increases colleague engagement, accelerates career achievements and drives business results.
In addition to her corporate achievements, Brittany founded Career Thrivers, which is a leadership development firm that partners with organizations to engage, develop and retain diverse talent through targeted leadership development.
Brittany studied Political Science and Communications at The University of Tennessee, Knoxville and earned a certification in Strategies for Building and Leading Diverse Organizations from The Harvard Kennedy School of Public Policy.
Brittany also serves as a mentor with Pathway Women's Business Center, Marketing Director for NSN Nashville and speaker coach for TEDxNashville. Beyond her career and service work, Brittany and her husband Joseph enjoy hiking, concerts and exploring their hometown of Nashville, TN. Let's thrive, together!