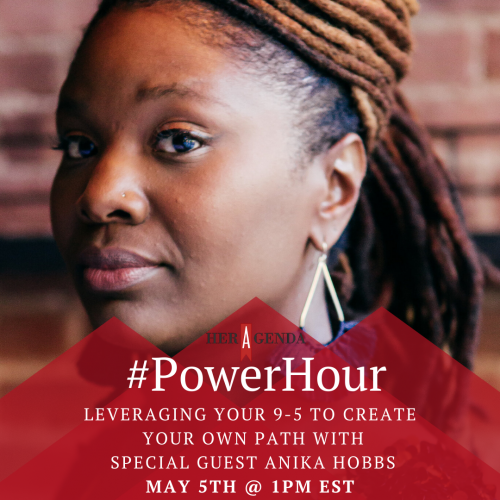 #PowerHour With Anika Hobbs: Leveraging Your 9-5 To Create Your Own Path
By
Her Agenda Staff
May 4 2020, Published 8:00 p.m. ET
VENUE: Slack (Her Agenda INSIDERS!) - subscribe to join the chat
Get Tickets
For our next #PowerHour, we host Anika Hobbs to discuss how to leverage your 9-5 to create your own path. Being an entrepreneur is a goal of so many, but often the path to get there looks different. For some, working a 9-5 is necessary for stability. So how do you turn a 9-5 into something meaningful for you? Leveraging your experiences.
Entrepreneur Anika Hobbs is coming to discuss her experience with this to the Her Agenda INSIDERS.
After graduating from Syracuse University with a degree in Environmental Design (Interiors), Anika Hobbs looked to become an architect. Yet with the need for immediate employment, she joined one of the world's leading fashion-retail brands at its earliest stages in the US leading to a professional career in over 15 years of multi-level, national and international retail trade. There, her interest in the convergence of fashion, interior design, along with extensive international travels to Africa, Central America, Asia, and Europe, developed her understanding of social responsibility, design, and business.
Her passions fueled her charge to become an economic change agent through brand exposure, product development, and curated retail experiences leading to her business, Nubian Hueman.
Want to join the conversation? You must be a Her Agenda INSIDER to join the conversation. Become an Insider today for access to Power Hour chats, exclusive discounts, perks, and job opportunities only available to our community!