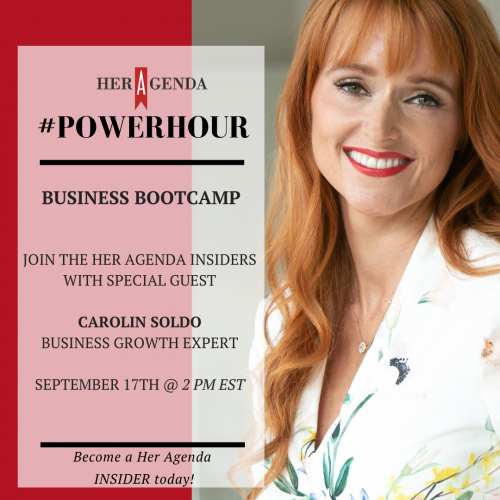 #PowerHour With Carolin Soldo: Business Bootcamp
By
Her Agenda Staff
Sep. 16 2020, Published 8:00 p.m. ET
VENUE: Slack (Her Agenda INSIDERS!) - subscribe to join the chat
ADDRESS: Slack (Her Agenda INSIDERS!) - subscribe to join the chat
Get Tickets


Join the Her Agenda INSIDERS Thursday, September 17th as we host business growth expert Carolin Soldo for #PowerHour. Carolin will host our Her Agenda version of business bootcamp! Carolin will be in the community to answer questions about what to do to build, grow, and scale your business.

As one of the most recognized coaches for entrepreneurial and businesswomen, she has been named "Female Entrepreneur of the year" by the Stevie Awards and has created an Inc. 5000-ranked, global enterprise devoted to empowering women entrepreneurs.
She was named one of Buffalo's 40 under 40, has won the Small Business Administration Award for Business Owner of the Year, and has been featured on Forces, Inc.com, Entrepreneur Magazine and more. Carolin has built two 7 multi-million-dollar businesses in the Service Industry and is also an angel investor with a special interest in women-led ventures.
Over the last 10 years, Carolin has advised & helped nurture the businesses of many of the 7- figure thought leaders you see thriving today. After hosting large online programs for years, today she only works with a limited number of high-profile clients one to one and hosts unique live experiences and events.