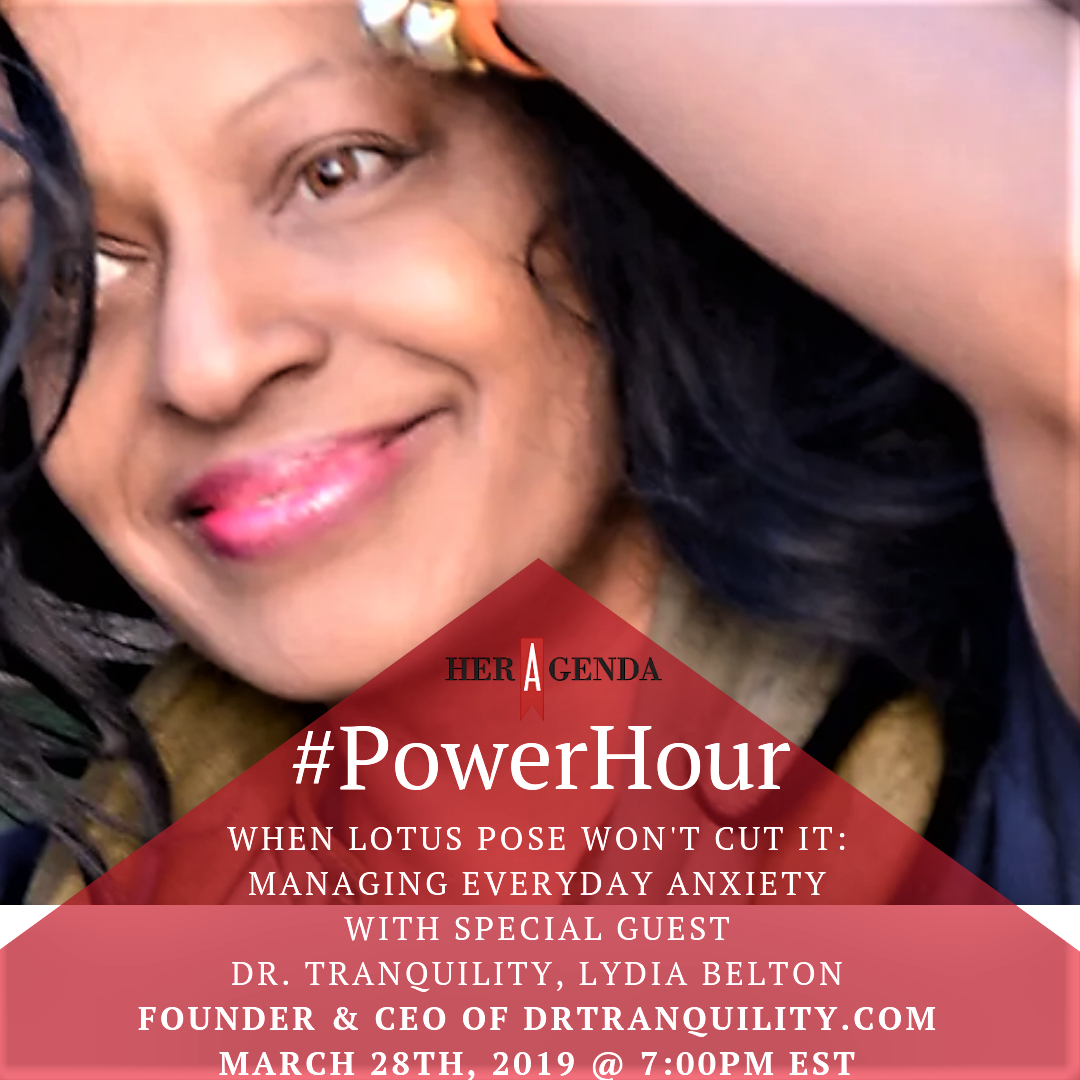 #PowerHour With Dr. Tranquility - When Lotus Pose Won't Cut It: Managing Everyday Anxiety
By
Her Agenda Staff
Mar. 27 2019, Published 8:00 p.m. ET
VENUE: Slack! (Her Agenda Insiders)
Reminders to care for our mental health and wellness are everywhere. Does it ever stress you out? At this month's #PowerHour, we host Dr. Tranquility (also known as Lydia Belton) to discuss "When Lotus Pose Won't Cut It: Managing Everyday Anxiety." How do we live our day-to-day lives navigating workplace stress, FOMO, and personal anxieties without hitting the point of overload? We'll tackle these questions, and any that you have for this month's special guest!
Dr. Tranquility is a mental health expert with a background is psychology, relaxation physiology for mind-body medicine. She was trained at Harvard University's Mind-Body Institute and Columbia University's Rosenthal Center for Complementary & Alternative Medicine. Lydia's patients are largely referred due to adjustment disorder, situational anxiety, socialized anxiety, as well as performance anxiety and pain management. On the lighter side, she works on dating and relationships.
She worked as an early response therapist during 9/11 in New York, and is active in outreach. One of her favorites is the steering committee for the Children's Museum of Manhattan.
Article continues below advertisement
She founded DoctorTranquility.com and acquired substantial membership base over a decade. She is known for her exclusive B Well TV productions which have aired on London Network & television, including on the B Well TV channel, DrTranquility TV & Date Therapy Video with a combined network reach of over 139 million viewers around the globe. These productions have featured famed shoe designer Jimmy Choo on Qi Gong (now D'ato); the exclusive Dorchester Spa in London; and The Champion Trust (who are leaders in prostate cancer research around the globe). She & her expert protocols have been featured in magazines such as Cosmopolitan, REDBOOK, and British Glamour,has held 2 monthly columns both nationally & internationally in print & internet media.
You must be a Her Agenda Insider to join the conversation. Become an Insider today for access to Power Hour chats, exclusive discounts, perks, and job opportunities only available to our community!